SEE THE BACK STORY
Neighbors sick of living by home burned 3 years ago
Posted:
Updated: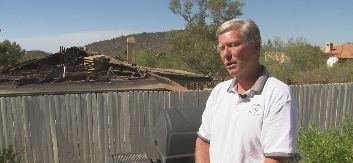 PHOENIX (CBS5) -
Imagine waking up every day, looking out your window and seeing a home destroyed by a fire three years ago.
It's a reality for people living in the neighborhood near 15th Avenue and Sweetwater Drive. They said the home hasn't been touched since.
"It's just time. Three years has been long enough," said neighbor Frank Gallagher.
The neighbors said they've been patient.
"The first six months (the homeowners) said they were waiting for insurance. The first year they said they were waiting for insurance. The first year and a half they said they're waiting for insurance," Gallagher said.
In the meantime Gallagher said the neighborhood eyesore has become more than just a nuisance.
"We just cannot for the life of us understand why these people would do this. And allow the liability, actually," he said.
Gallagher said the homeowners were using the house as a rental property, so CBS 5 News went to their north Scottsdale neighborhood to find out why they haven't either demolished the house or fixed it.
The community was gated, so our crew used the entrance box to call the homeowner. When he heard what they were calling about, he hung up.
The city of Phoenix has stepped in to take action, but said the homeowners have filed some paperwork to delay it.
There should be another hearing sometime next month.
The neighbors said they hope the owners will step up and do the right thing before then.
Copyright 2012 KPHO (Meredith Corporation). All rights reserved.