UPDATE
Trial begins for accused Biltmore arsonist
Posted:
Updated: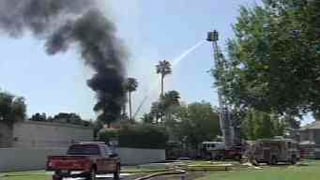 July 2009
PHOENIX (CBS5) -
The trial for a man accused of torching his 10,000-square-foot Biltmore mansion for the insurance money began Monday.

Prosecutors said Michael Marin set the $3 million home on fire in 2009 when he was unable to sell it.
He escaped from a second-story balcony on a rope ladder and wore scuba gear to breathe.
Marin was arrested about six weeks later and charged with arson.
During his opening statement, prosecutor Chris Rapp described Marin as a successful Wallstreet banker whose financial world collapsed when the economy went south.
The prosecutor told jurors that there were four separate fires set in the home, where they found dozens of cardboard boxes, phone books and newspapers with traces of gasoline.
However, defense attorney Lindsay Abramson rejected the state's claims, telling the jury that there is no evidence of arson and the fire was not investigated properly.
"They have not proven and will not prove any evidence that he started this fire," Abramson said.
Copyright 2012 CBS 5 (Meredith Corporation). All rights reserved.