Gladiator Fire moves back toward Crown King
Posted:
Updated:
Gladiator Fire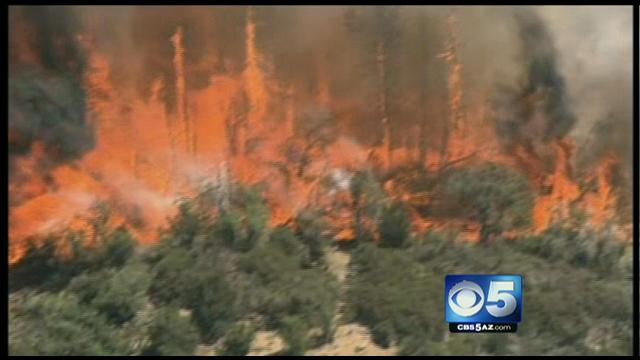 Flames continue to tower
SPRING VALLEY, AZ (CBS5) -
Saturday evening evacuees gathered around the latest fire map, hoping to see that the fingers of the flames have not reached their community. Fire crews announced that no more homes had been lost and with calmer winds they finally got ahead of the fire.
"They have a strategy they change it as they need to. They are pros we are the No. 1 priority in the nation and we are being treated as such," said Becky Tucker, an evacuee.
Tucker had to leave her home in Crown King almost a week ago - she now returns every night for the community meetings hoping for good news. Saturday it was a mixed bag. Her home is still standing, but the fire has turned back and is headed again for her community and nearby communication towers.
"They have protected the town very well, and of course now that it has turned a little they are working to protect the towers. We appreciate that because that is where most of our communications come from, and I understand most of the state uses those towers as well." Tucker said.
Fire crews feel things are shored up as much as possible on the south around Crown King, and with the fire lines holding they are now attacking the fire at from the north.
"We cut loose some of the resources that were doing structure protection, and we have reallocated them to different parts of the fire, where they will be a little more efficient and a little bit better used," said Brad Pitassi, from the incident management team.
Planes and helicopters were constantly making drops on the fire, reducing its intensity so crews could work right on the fire line getting it contained.
Helicopters also brought in 40 members of a hot shot crew. They are working by hand to get containment lines around the fire, and will be camping out in the area overnight.
Totals acres burned stands at 12,898. The lack of change in acreage is because of some acres not being mapped Saturday as a result of fire activity, officials said. These acres will be picked up overnight by infrared sensing.
An evacuation order remains in effect for the community of Crown King, and the Battle Flat, Pine Flat and Turkey Creek areas, the Yavapai County Sheriff's Office said.
There will be a community meeting for area residents at 3 p.m., Sunday at the Mayer High School, 17300 East Mule Deer Dr. in Spring Valley. A fire update will be provide from 3 to 4 p.m.
From 4 to 5 p.m., a tutorial will be presented on the use of Google Earth to determine the location of people's property in relation to the Gladiator Fire.
Copyright 2012 CBS 5 (Meredith Corporation). All rights reserved.