Calm winds Saturday help with Gladiator Fire
Posted:
Updated: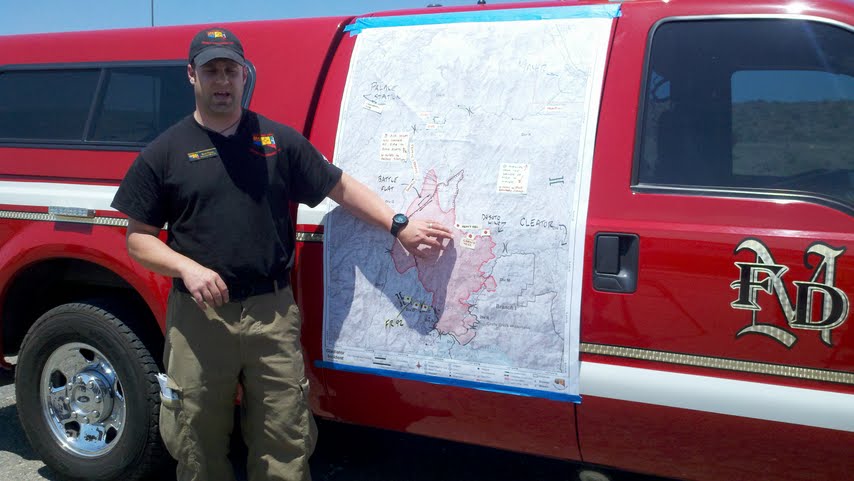 Gladiator Fire
CROWN KING, AZ (CBS5) -
Flames from the Gladiator Fire have been reaching 120 feet into the air and the U.S. Forest Service said that calm winds Saturday allowed crews to fight the blaze more aggressively.
"Well today's goal was to get hand crews on the ground and we have used a lot of air resources to do that," said Troy Waskey with the U.S. Forest Service.
Waskey said hot shot crews fought the fire at the front lines and air attacks were up to full strength Saturday.
"We actually increased our helicopters to eight, that's up from seven and we have four air tankers committed to the incident right now. We are still the No. 1 priority fire in the Southwest area and in the nation," he said.
Firefighting efforts Saturday focused at the north end of the blaze where Pine Flat and Turkey Creek have already been evacuated, threatening approximately 120 structures, and to the southwest where the fire is burning only about one mile from important communication towers, according to the U.S. Forest Service.
By Saturday afternoon the U.S. Forest Service said the fire had burned approximately 14,000 acres and was 10 percent contained.
Total estimated costs for the fire, according to the forest service, is $4,064,283.
Road closures identified
Here is a list of road closures for the Gladiator Fire as of Saturday morning:
All roads leading into the community of Crown King are closed.
Cleator - Crown King Road (County Road 59) is closed at Cleator.
Senator Highway to Crown King (County Road 52) is closed at the junction with Poland Rd. (County Road 58).
Forest Road 192 is closed.
Forest Road 711 is closed south of the Forest boundary at Cow Creek.
Mayer-Bolander Road (County Road 177) is closed at the Forest Boundary.
Forest Road 362 is closed south of the Forest boundary at Wagner.
Ozone watch, high pollution advisory for Phoenix
The Arizona Department of Environmental Quality has issued an ozone health watch for Saturday and an ozone high pollution advisory for Sunday in the Phoenix metropolitan area.
ADEQ officials say ozone concentrations are expected to increase throughout the weekend. Meteorological conditions will move ozone from Southern California into the Phoenix metro area coupled with bright sunshine, temperatures in excess of 100 degrees and light winds on Sunday.
The Maricopa County Air Quality Department will enforce its mandatory "No Burn Day" restrictions Sunday. The restriction includes individuals and businesses that have burn permits for open burning.
Ground level ozone is formed by a chemical reaction that needs heat from sunlight, nitrogen oxides and volatile organic compounds to form. The Phoenix metro area's ozone season is from April through September.
Copyright 2012 CBS 5 (Meredith Corporation). All rights reserved.