UPDATE
Viewing venues shine for solar eclipse
Posted:
Updated: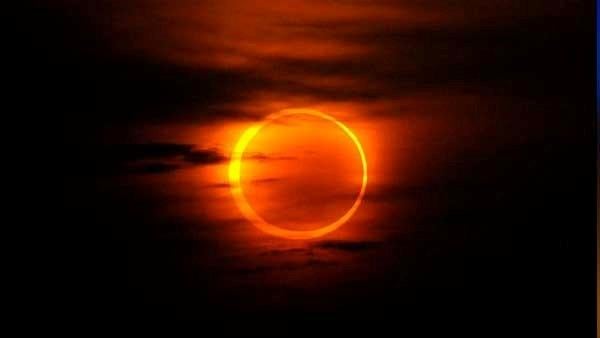 (Source: 2- news.nationalgeographic.com)
PHOENIX (CBS5/AP) -
The first annular solar eclipse in the United States since 1994 is getting under way in the Valley and across much of northern Arizona.
During an annular eclipse, the lunar disk will not quite completely cover the sun, but will appear as a "ring of fire" with the sun's edges still visible, according to the National Oceanic and Atmospheric Administration.
Outside the "path of annularity," a partial eclipse will happen in the area of Flagstaff, Prescott and Payson, according to NOAA.
NOAA said the ring of fire will only last a few minutes in a given location, with the state of the partial eclipse preceding this by around one hour. The eclipse will end at sundown.
There are several spots in the Valley planning watching parties. The East Valley Astronomy Club will have several filtered telescopes for a viewing party at the Riparian Preserve at Water Ranch at 2757 E. Guadalupe Road in Gilbert. The event starts at 5:15 p.m. on Sunday.
The Phoenix Astronomical Society will also holding a "Solar Eclipse and Star Party" for the general public at 8030 Golden Spur Lane in Carefree starting at 3 p.m. on Sunday.
Admission for both events is free.
Click here to see a map and eclipse times from NOAA.
Arizona tribes talk significance
Baje Whitethorne Sr. learned a lesson in Navajo culture decades ago that has become relevant.
Whitethorne was a child visiting his grandfather on the reservation when he learned it's disrespectful to gawk at the sun during an eclipse. He says he heeded the message from his grandfather to go inside and sit still while the sun died and was reborn.
Whitethorne says it's a matter of respecting and honoring nature.
Many American Indian tribes view the sun and the moon as cultural deities. But the beliefs among tribal members don't all signal a need to stay clear of the eclipse.
Copyright 2012 CBS 5 (Meredith Corporation). All rights reserved. The Associated Press contributed to this report.