UPDATE
AZ secretary of state: 'I am not a birther'
Posted:
Updated: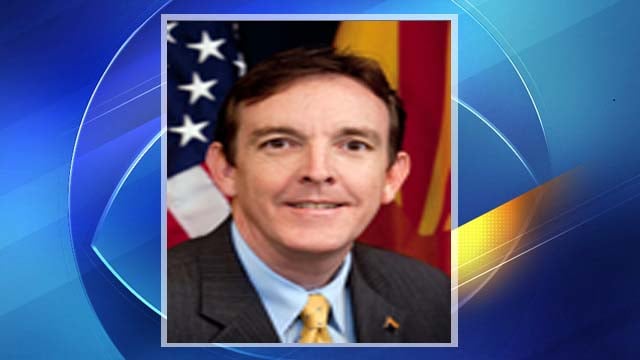 Arizona Secretary of State Ken Bennett
Gov. Jan Brewer
PHOENIX (CBS5) -
The Arizona Secretary of State, accused of being a "birther," said he asked for verification of President Barack Obama's birth certificate because a constituent had requested it.
AZ Secretary of State Ken Bennett has suggested he may keep Obama off the November ballot in Arizona if he doesn't receive additional verification of the president's birth certificate from Hawaii.
Bennett released the following statement on Friday regarding Obama's birth certificate.
First, I have been on the record since 2009 that I believe the president was born in Hawaii. I am not a birther. At the request of a constituent, I asked the state of Hawaii for a verification in lieu of certified copy. We're merely asking them to officially confirm they have the president's birth certificate in their possession and are awaiting their response.
Bennett has endorsed Republican presidential candidate Mitt Romney and serves as his Arizona campaign co-chair.
On Friday, when Gov. Jan Brewer was asked about the president's birth certificate, she had the following to say.
I don't know the details about it but there's been controversy regarding where he was born. I, in fact, believe that he was born in Hawaii, and I've had the opportunity to speak with the prior governor and she indicated to me with all due process and trustworthiness that indeed she'd seen the birth certificate, it was a valid birth certificate so that's the story from where I know it.
Meanwhile, Maricopa County Sheriff Joe Arpaio created a group to investigate the authenticity of Obama's birth certificate.
The Cold Case Posse comprises volunteers who are former police officers and lawyers, Arpaio said.

In March, Arpaio claimed the investigation found that Obama's birth certificate is not authentic.
"I'm not stopping my investigation," Arpaio said. "Especially if they say that that birth certificate is legitimate and it's not, they got a problem."
When it comes to voters, there's no shortage of strong opinions.
"It's all politics, I think President Obama is the legitimate president of the United States, he should be on the ballot in Arizona," said Dennis Kittrell.
"Everyone knows he's an American, it's been proven, that's it," said Jason bandy. "I mean, people should go on and deal with the real issues of America."
"What do I think about Obama not being on the ballot? Whoo!" said Cynthia VanAlst.
The attorney general in Hawaii responded late Friday and said if Bennett wants proof they have the certificate on file, he has to prove he legitimately needs it, and that so far, he hasn't.
Stay with cbs5az.com and CBS 5 News for updates on this developing story.
Copyright 2012 CBS 5 (Meredith Corporation). All rights reserved.