SEE THE BACK STORY
Ex-Phoenix cop caught making porn movies
Posted:
Updated: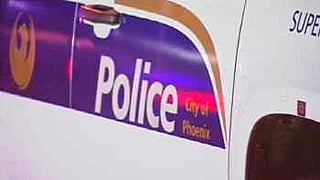 PHOENIX (CBS5) -
He's been stripped of his badge for stripping down. Police say former Sgt. Michael Zeller, a 23-year veteran of the department, not only starred in two adult films, but also ran a porn website with his wife.
"Won't believe that being a porn star is acceptable behavior for a Phoenix Law enforcement official," said Sgt. Tommy Thompson with Phoenix police. The department first heard of Zeller's moonlighting gig from the Phoenix Law Enforcement Association, or PLEA.
"He had participated in the production of the two pornographic movies, that his wife was managing an adult website," Thompson said.
A complaint from the Arizona Peace Officer Standards and Training Board, or AZPOST, says once someone told on him, Zeller admitted he starred in two movies, filmed his wife engaging in sex acts and put it on their own website to make money. He claimed his wife insisted they do it and he obliged so she wouldn't have sex with other men.
"It was not illegal nothing they did was illegal," Thompson said. But it probably isn't the best behavior for a cop, and Thompson says if Zeller hadn't retired first back in December, he would likely have been fired, since an important part of law enforcement, Thompson says, is to maintain trust with the community.
"That type of activity tends to undermine that trust," Thompson said.
We paid a visit to Zeller's home but we have not yet been able to reach him. AZPOST opted not to revoke his state certification, so if he wants, he can apply to be an officer at another department.
Copyright 2012 KPHO (Meredith Corporation). All rights reserved.