UPDATE
CA lawyer accused in AZ murder released from jail
Posted:
Updated: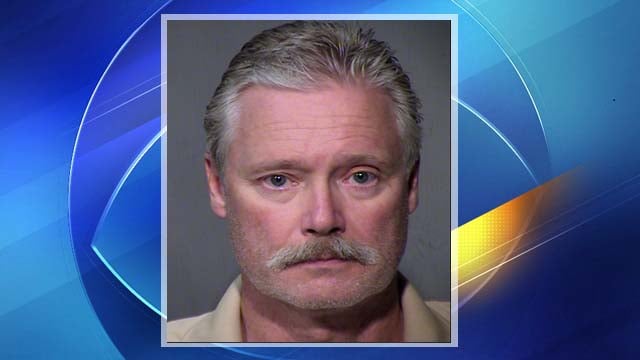 Robert Fischer
QUEEN CREEK, AZ (CBS5) -
A California man accused of murder in Arizona has been let out of jail because the judge said the evidence didn't support the jury's decision.
CBS 5 News' Donna Rossi spoke with Robert Fischer Tuesday soon after his release.
Fischer was very emotional. He's a former police officer turned divorce attorney, but for the past few years, he has been on the other side of the law, accused and convicted of killing his stepson-in-law, but that all changed late last week.
"I feel like George Bailey in 'A Wonderful Life,' I truly do," Fischer said.
Fischer said he was doubtful the day would ever come that he'd be a free man.
Maricopa County Superior Court Judge Karen Mullins overturned his murder conviction and dismissed the case against him.
Fischer was visiting his stepdaughter's family Dec. 30, 2010, when his stepson-in-law, 49-year-old Norman "Lee" Radder died of a single shot into his right eye after an evening of drinking.
The Maricopa County Medical Examiner's Office determined Radder's death was a homicide.
The defense claims Radder, Fischer's stepson-in-law, committed suicide with Fischer's gun.
In December 2013, a jury convicted Fischer of second-degree murder in Radder's death at his family's Queen Creek home.
However, Mullins ruled late last week there was no evidence that Fischer pulled the trigger.
"I was excited. I have said all along that I thought my judge was fair. I thought her decision was courageous. I thought it was right. And I felt very fortunate that she made that decision," Fischer said.
Two jurors CBS 5 News spoke with last week disagreed and said they stand by their guilty verdict.
"The blood spatter and all the evidence didn't add up to a suicide at all," juror Taylor More said.
"There's no doubt," juror Mary Jane Kenney said.
"I'm not going to be able to change what people think. I can tell you I know in my heart I didn't do it. I loved Lee. He's part of my family and it's a horrific tragedy," Fischer said.
Fischer knows the case is far from over.
The state has appealed the judge's ruling that overturned the conviction.
If the ruling holds up, the state could re-indict Fischer and start the case all over again.
Fischer has a law office in Garden Grove, CA.
Stay with cbs5az.com and CBS 5 News for updates on this case.
Copyright 2014 CBS 5 (KPHO Broadcasting Corporation). All rights reserved.
UPDATE

CA lawyer accused in AZ murder released from jail

More>>