SEE THE BACK STORY
Fire evacuees gather in neighboring community
Posted:
Updated: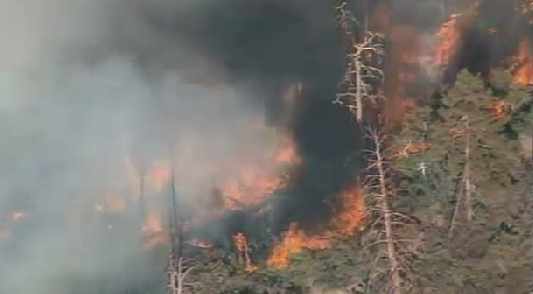 © CBS 5
SPRING VALLEY, AZ (CBS5) -
From the small community of Cleator you can see the Gladiator Fire growing in strength. However, as the winds fan the flames, many watching hold their breath hoping the fire will not turn toward their homes in Crown King.
"When you see the first pictures of the fire you can see a complete Y and on the right side of that Y is where my house is," said Dorris Ruth, a Crown King resident.
Ruth was returning from vacation when she learned about the fire. She has not seen her home since, but her boyfriend is still inside working to save it from the encroaching fire.
"I told him there is nothing up there worth you, and he said 'I'm not a fool if I see that I cannot beat this then I am out of here,'" Ruth said.
Her boyfriend is joined by several other men working toward the same goal. Ray Calderon said he wanted to stay, but sheriff deputies made him go and he admits it was almost too late because the flames were so close.
"I was cutting through a pass and the wind shifted and blew the flames right over the top of me, I just bellied down on my little quad and I got out of there as fast as I could," Calderon said.
The most recent evacuee to Cleator is Alan Poritiras and with him came the latest news of how things look.
"It is charcoal all over. All over just charcoal, little sticks and ashes all over the place," Poritiras said.
He does not think his home will be there when he gets back. However, he stands firm with the rest of the evacuees, that no matter what they will go back to their community.
"If and when we get back up there whatever is gone we will rebuild we ain't going to let Crown King die," Calderon said.
Copyright 2012 KPHO (Meredith Corporation). Allrights reserved.