Fire officials punctuate the danger of extreme heat
Posted:
Updated: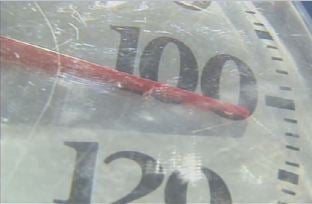 PHOENIX (CBS5) -
Extreme heat is responsible for more deaths every year than any other type of weather phenomena.
So far this year, Phoenix fire has responded to 87 heat-related calls. Last year at this time, they only had 43 such calls.
"This is the time of year that we'd really like the public to listen to what we're saying as far as how to avoid an illness," said Deputy Chief Frank Salomon.
Avoiding heat-related illness involves recognizing the symptoms and taking action. Heat cramps are the body's "warning" system. Heat exhaustion is the stage before heat stroke, where the brain has lost its ability to regulate body temperature. The elderly, the young and those with medical conditions are most susceptible to the extreme heat.
Firefighters also demonstrated just how hot it can get inside their turnout gear. After just 15 minutes of work, the temperature soared to almost 120 degrees.
"They're designed to not let heat in, but they don't let your body cool off either, so it doesn't let any of that heat out. So the more you work, the hotter it starts getting inside," said firefighter Ed Gutierrez.
Fire officials wanted their demonstration to serve as a reminder to protect yourselves and your pets as hot summer temperatures approach.
Copyright 2012 CBS 5 (Meredith Corporation). All rights reserved.