Fire restrictions expanded for state lands
Posted:
Updated: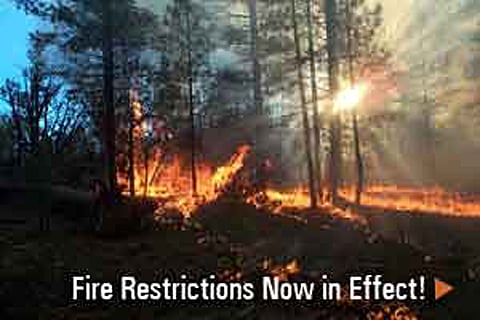 © CBS 5
FLAGSTAFF, AZ (CBS5/AP) -
Fire restrictions will expand to state lands in all of Arizona's 15 counties on Friday, State Forester Scott Hunt said.
It's because of the high risk of wildfires across Arizona. Earlier this month, state lands in six southeastern counties were placed under restrictions.
Effective Friday at 8 a.m., fire restrictions on state lands will prohibit campfires, charcoal-burning devices and use of acetylene or other torches. Smoking is also prohibited unless it is within an enclosed vehicle or building, developed campground or area that is cleared of all flammable materials. The restrictions also include a prohibition on the use of any fireworks.
The restrictions apply statewide to all unincorporated state trust lands, Game & Fish Wildlife areas and Arizona State Parks. State park campgrounds will remain open - however parks will be under severe fire restrictions
Coconino County officials in Flagstaff have approved a ban on fires until the risk of wildfires in the high country subsides.
Restrictions on campfires, fireworks and other open fires went into effect Wednesday on public and private lands throughout the county.
The county's board of supervisors said the ban does not apply to lanterns or petroleum-fueled stoves, charcoal grills in homes or special events approved by them.
The board's decision is in conjunction with restrictions that have been implemented in Coconino and Kaibab National Forests and the city of Flagstaff.
Restrictions also went into effect in the Tonto National Forest at 8 a.m. Wednesday.
Most types of fire or fire-causing activities or devices are banned across the entire forest, as is building, maintaining, attending or using a fire, campfire or charcoal-burning device.
Smoking is only allowed in developed campgrounds, vehicles or buildings.
Arizona Fire Information & Restrictions: Call toll free 1-877-864-6985 or visit the Public Lands Information Center.
Copyright 2012 Associated Press. All rights reserved. CBS 5 (Meredith Corporation) contributed to this report. All rights reserved.