UPDATE
More communities brace for Gladiator Fire
Posted:
Updated: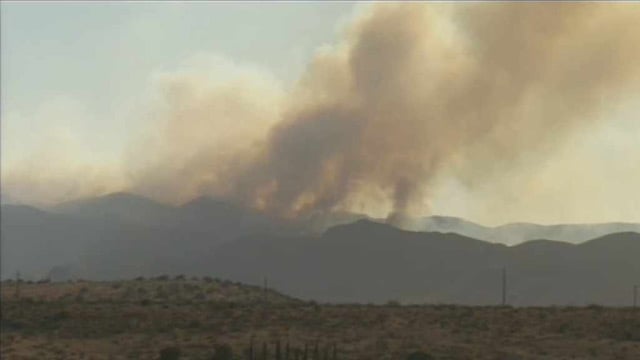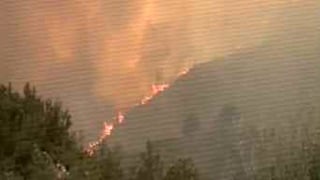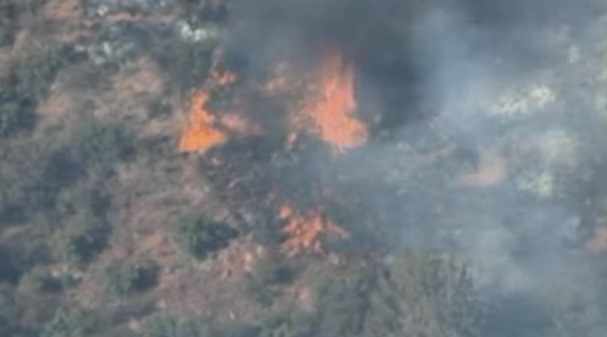 © CBS 5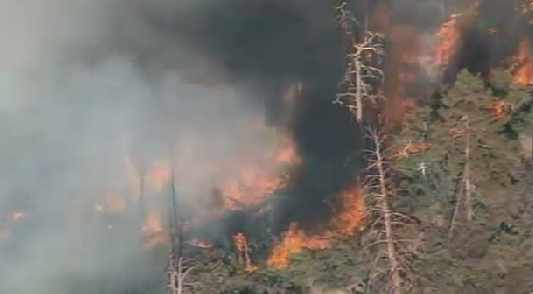 © CBS 5
SPRING VALLEY, AZ (CBS5) -
Fire officials are now ordering residents in Turkey Creek to evacuate, as well as in Pine Flat, as the Gladiator Fire continues to grow.
Additional fire crews were being called Friday as gusty winds threatened to push the fire into more inhabited areas of the Prescott National Forest.
The fire has burned nearly 13,000 acres and forced the evacuation of another community, according to Debbie Manlee, a Prescott National Forest Service spokeswoman.
Manlee said Friday morning the fire was beginning to threaten a summer home subdivision called Turkey Creek and was approaching about 20 more homes in Pine Flat northwest of Mayer.
The fire began near the historic mining town of Crown King and has destroyed five structures since Sunday. It is now 10 percent contained, Manlee said.
Fire incident spokeswoman Michelle Fidler said gusts of up to 50 mph in the Prescott National Forest were expected to hamper efforts of some 540 firefighters actively battling the blaze Friday.
The fire also prompted an evacuation order Sunday. The blaze started at a home, but investigators haven't determined the cause.
Air tankers worked the western flank of the fire near a number of important communication towers Thursday to check the fire's spread to allow hot shot crews to scout the area.
Fidler said winds could shift and push the wildfire back into the community where it started Sunday as a structure fire on private property.
Incident Commander Joe Reinarz has warned evacuees the fire has potential to creep back toward town, threatening more homes.
"On a scale of one to 10, in this case, under these conditions, it's a 10. It's as bad as it can get right now," Reinarz said.
Reinarz and other officials warned that people who have so far ignored mandatory evacuations are putting themselves in a dangerous situation.
Some evacuees at the meeting called loved ones to urge them to leave their homes as well.
"My daughter doesn't want to leave, but I told her she has to get out right now," Lynn Turley said.
Meanwhile, Ballinger said he's hopeful his town will make it through this latest threat.
"Hopefully, the potential bad scenarios don't come true, but they definitely prepared us for them," Ballinger said.
Road closures identified
Here is a list of road closures for the Gladiator Fire as of Saturday morning:
All roads leading into the community of Crown King are closed.
Cleator - Crown King Road (County Road 59) is closed at Cleator.
Senator Highway to Crown King (County Road 52) is closed at the junction with Poland Rd. (County Road 58).
Forest Road 192 is closed.
Forest Road 711 is closed south of the Forest boundary at Cow Creek.
Mayer-Bolander Road (County Road 177) is closed at the Forest Boundary.
Forest Road 362 is closed south of the Forest boundary at Wagner.
Ozone watch, high pollution advisory for Phoenix
The Arizona Department of Environmental Quality has issued an ozone health watch for Saturday and an ozone high pollution advisory for Sunday in the Phoenix metropolitan area.
ADEQ officials say ozone concentrations are expected to increase throughout the weekend. Meteorological conditions will move ozone from Southern California into the Phoenix metro area coupled with bright sunshine, temperatures in excess of 100 degrees and light winds on Sunday.
The Maricopa County Air Quality Department will enforce its mandatory "No Burn Day" restrictions Sunday. The restriction includes individuals and businesses that have burn permits for open burning.
Ground level ozone is formed by a chemical reaction that needs heat from sunlight, nitrogen oxides and volatile organic compounds to form. The Phoenix metro area's ozone season is from April through September.
Red Cross updates relief available for evacuees
The Red Cross is converting its overnight shelter to a reception and care center, which will provide snacks, water and a place to rest during the day. The Red Cross Reception and Care Center opened at Mayer Elementary School, 12606 E. Main St. in Mayer, on Friday at 10 a.m. and will stay open until 5 p.m. each day until further notice. There will be no overnight accommodations there, but if evacuees need overnight sheltering, the Red Cross will convert the center to a shelter within minutes.
The Red Cross telephone number for anyone who needs help in the area is 928-237-6751 or 1-800-842-7349.
Victim Relief Ministries volunteers will provide emotional support at the Red Cross Reception and Care Center as needed.
Animal Disaster Services volunteers are sheltering household pets and livestock at the Mayer High School Agricultural Building in Spring Valley. Volunteers care for animals around the clock, and food, water, leashes and crates are available. Volunteers will administer medications and special diets if they are provided. Anyone who wants to assist as a volunteer is encouraged to stop by the agricultural building.
The Crown King Chamber of Commerce said people who wish to help the victims of the fire can go to Wells Fargo and donate to the Crown King Gladiator Fire Resident/Business Account. The number is 260-786-4259.
Copyright 2012 CBS 5 (Meredith Corporation). All rights reserved.