Air tanker fleet for wildfires dwindling
Posted:
Updated: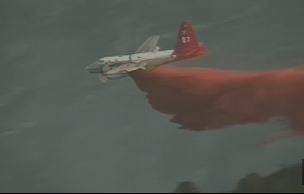 PHOENIX (CBS5) -
Air tankers are crucial in the first few days of a wildfire.
The fire retardant they drop slows the fire down, buying more time for crews on the ground to build fire lines.
But as the wildfire season starts in the southwest, the number of these specialized tankers is down to an alarmingly low number.
Last year, federal wildfire officials had 18 large air tankers at their disposal through exclusive-use contracts with private companies.
This year, that total is down to 11 because seven were too old to safely fly this season.
Eight of those 11 tankers are in Arizona right now assisting with efforts at the Gladiator and Sunflower fires, but there's no guarantee they'll stay here if fires start in another state.
"We are hopeful that we will be able to add three next generation air tankers this year and another 10 next year," said Jennifer Jones, a spokeswoman for the USDA Forest Service.
Jones said the Forest Service is currently evaluating contracts for the new air tankers, and in the meantime they can call on 16 part-time tankers and hundreds of helicopters.
"We are confident in our ability to mobilize these assets and efficiently meet the needs when they arrive," said Johnson.
Elected officials from Arizona first expressed concern over the dwindling fleet of air tankers in 2004.
When asked to respond to our story, the offices for U.S. Sens. John McCain and Jon Kyl sent us a joint statement that reads in part: "We are committed to ensuring Arizona receives all necessary federal support to battle wildfires."
Copyright 2012 CBS 5 (Meredith Corporation). All rights reserved.