People evacuate Crown King
Posted:
Updated: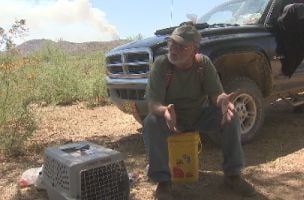 CROWN KING, AZ (CBS5) -
The town of Crown King in Yavapai County has been under a mandatory evacuation, and two people our CBS 5 News crews caught up with said they left their home Sunday.
"As long as the smoke is white, we are not worrying," said Bob Kallstrom.
He and his friend Marina Taddei evacuated and decided to wait it out at a makeshift campsite.
"We've got some food here. We grabbed what we could grab out of the refrigerator and we've got enough here and we've got water for the dogs," said Kallstrom.
Taddei said they saw the blaze minutes after it started on Mother's Day when one of their friend's homes went up in flames.
"I saw it from a little flame and it just engulfed the whole mountain, and that really hurts my heart because it engulfed the whole side of the mountain and I saw it myself," said Taddei.
With the smoke rising over the mountain behind them, the two said they would wait it out until nightfall to see if they could get back inside. At the time of this story Monday afternoon, the Prescott Nation Forest Service said the fire was about four miles from the town of Crown King.
"I'm not worried about it, and I think it will work out OK," said Kallstrom.
The Yavapai County Sheriff's Office said that about 250 homes are in the area of Crown King.
Copyright 2012 CBS 5 (Meredith Corporation). All rights reserved.