UPDATE
Gladiator Fire at 1,700 acres; Crown King isolated
Posted:
Updated: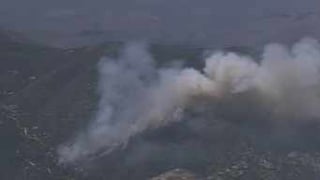 Gladiator Fire near Crown King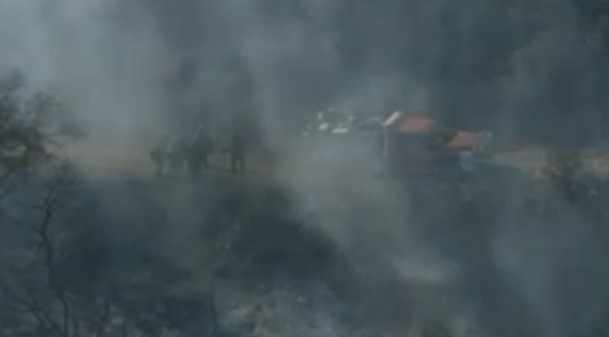 Aerial of the fire Tuesday night
The fire is 3 miles north of Crown King
CROWN KING, AZ (CBS5) -
Firefighters were working to protect homes and cabins from the growing Gladiator Fire near Crown King as winds began to pick up Tuesday.
The wildfire, which began as a structure fire at a private residence Sunday, had grown to 1,700 acres by 8:30 Tuesday morning with no containment, said Debbie Maneely with the U.S. Forest Service.
Dry conditions were combining with erratic winds between 10 and 20 mph with gusts up to 35 mph to complicate firefighting efforts, according to a fire commander who briefed crews Tuesday morning.
Winds from the southeast and south were expected to push the fire north and northwest today, officials said.
Maneely said heavy air support was going to be used to aid ground crews. There were six air tankers, four helicopters and a lead plane expected to be in the air Tuesday.
All roads leading into Crown King were closed, and a fire ban was in effect for Yavapai County, prohibiting all open fires and campfires, any open flame, fireworks and any equipment that might cause a spark.
There are also severe restrictions including a ban on campfires, charcoal grills and wood stoves in the Prescott National Forest.
Mandatory evacuations were ordered for residents of Crown King as the wildfire threatened the small tourist community tucked in the Bradshaw Mountains, the Yavapai County Sheriff's Office said.
Maneely said that about 30 residents remain in the community, which has approximately 300 homes, and that half the residents live there year-round. Three structures had been destroyed by the fire as of Tuesday morning.
A community meeting is planned for 6 p.m. Tuesday at Mayer High School, 17300 E. Mule Deer Dr. in Spring Valley, to update evacuees and members of the media.
All the roads leading into Crown King were closed. The main road, Crown King Road, continues to be threatened and closed for periods of time because of the fire jumping the road.
There was a road block at Cleator on Crown King Road restricting access up the mountain to fire and law enforcement personnel. The road was closed at Old Senator Highway (FR 52) and Goodwin Road, as well as the junction of Forest Road 362/FR 52 and Forest Road 362/FR 192 and the Cow Creek Road and Forest Road 711 coming out of Lake Pleasant.
The wildfire, situated four miles north of Crown King, burned three structures the incident command staff said Monday. The Forest Service said there are 254 residential structures near Crown King and 55 cabins in the adjacent Horse Thief Basin area.
The Prescott National Forest had reported early Monday morning that the fire had reached 3,000 acres. Officials later sent a correction stating that GPS data found the span of the fire to be 600 acres. Since then, the fire continues to grow.
Red Cross volunteers opened a shelter for evacuees at Mayer High School. Red Cross was assisted by volunteers from Animal Disaster Services to shelter household pets and assist with placing large animals in safe places.
Ryan Castiglia of the Crown King Saloon told CBS 5 News a couple of streets were evacuated in town.
There were also 11 engines and seven hand crews battling the blaze Monday. The Glendale Fire Department deployed firefighters and a wildland engine to the fire.
Crown King is the site of a former gold-mining town. The community is 28 miles west of Interstate 17 on Senator Highway.
Nearly three years ago, Crown King was evacuated when a fire burned out of control, blackening more than 9,000 acres of forest land.
A former National Park Services employee, David Alexander Cygan, 52, of Yuma, was charged with leaving a fire unattended and unextinguished on the Prescott National Forest.
Residents in Cleator, a small community just down the mountain from the fire, were watching things anxiously. They hope this blaze will not be a repeat of the Lane 2 Fire in 2008.
"I was hoping I would never see it again in my lifetime, but hopefully, they will get this one under control faster, and no more homes will be lost," said Camille Shultz, a Cleator resident.
The small community knows it could be next to face an evacuation. However, as residents watch crews go up the mountain, they hope containment is coming soon.
"We have seen a lot of hot shots that have already gone up, and they are a blessing for fires like this. They were four years ago, and they will be again," Shultz said.
Copyright 2012 CBS 5 (Meredith Corporation). All rights reserved.