Woman accused in baby Gabriel case back on stand
Posted:
Updated: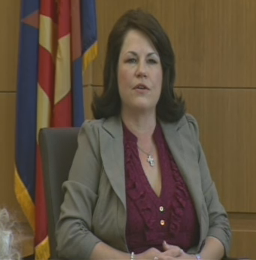 PHOENIX (CBS5) -
New details emerged from Superior Court Thursday in the trial of Tammi Smith.
Smith is the would-be-adoptive mom accused of playing a role in the disappearance of baby Gabriel, the Valley toddler who's been missing since December 2009.
The Scottsdale woman took the witness stand in her own defense for the second day in a row.
"I wanted to believe the baby was alive," Smith told jurors. "I wanted to believe with all my heart that there's no way I held a baby that somebody killed."
Smith is trying to convince the jury that she is not guilty of forgery and custodial interference in connection with the disappearance of baby Gabriel.
Gabriel's mother, Elizabeth Johnson, ran off with the toddler and took him to San Antonio.
Johnson is now in jail facing kidnapping charges, and the boy is still missing.
Smith testified that she spoke with Johnson several times in the days after she took Gabriel to Texas.
Smith said that she pleaded with Johnson to come back to Arizona.
"She was thinking of going off the radar?" her attorney asked.
"Yes, she said that she found somebody that is getting her and Gabriel new identification, a new birth certificate and she's going to color her hair," said Smith. "She used the word 'underground.'"
Prosecutors are trying to prove that Johnson and Gabriel's father, Logan McQueary, were having problems and Smith got in the way in an attempt to adopt Gabriel with her husband.
Smith is accused of forging adoption papers and offering McQueary $1,000 to sign over his parental rights.
However, Smith testified that the adoption papers were phony and part of a plan to convince Johnson to bring Gabriel home.
"I trusted that if this happened, that maybe she would come back," said Smith. "I truly believe that if they would have allowed me to do this, then she would have brought that baby back here."
Smith was also asked about the number of TV appearances she made with her husband after Gabriel's disappearance.
She said that Gabriel's dad was unavailable and she was the only one who could keep the story in the news.
"The media told me they couldn't find the father," said Smith. "I believe Channel 5 could, I guess, but none of the other media outlets could ever find the father and they were desperately trying to get to him. They asked Jack and I if we would help find this baby, so we did."
Copyright 2012 KPHO (Meredith Corporation). All rights reserved.