UPDATE
3 buildings 'total losses' in Whiskey Row fire
Posted:
Updated: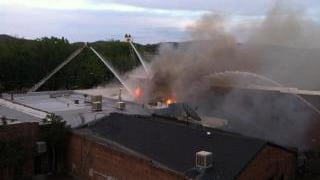 Courtesy of Matt Brassard
PRESCOTT, AZ (CBS5/AP) -
A two-alarm fire that destroyed three businesses on Prescott's famed Whiskey Row was caused by an appliance malfunction, investigators said.
Prescott Fire Capt. Jeff Knotek said which appliance is at fault for starting Tuesday night's fire hasn't been determined as of Wednesday afternoon.
He says the appliance was in the back kitchen of restaurant that was a total loss along with a saloon and a food store.
The blaze broke out in the 100 block of South Montezuma at about 6 p.m. An employee at the Bird Cage Saloon noticed smoke, evacuated customers and called 911, according to The Daily Courier.
Fire officials said crews were on the scene Wednesday morning looking for hot spots to ensure the fire doesn't pick up again and spread to more buildings in the historic city center.
The fire burned through the roof of the Bird Cage Saloon and jumped to the Prescott Food Store and Larry & Hy's BBQ restaurant.
The owner of the Bird Cage Bar said he was arrested and later released after trying to get to the fire scene.
The American Red Cross said it was assisting 18 people displaced by the fire and that St. Michael's Hotel was assisting with immediate shelter needs.
Firefighters said the two-alarm assignment had mobilized about 60 firefighters and 10 trucks.
Whiskey Row is named for the numerous saloons that once lined the street.
It has a concrete place in Arizona's history books. People still point to it today as a symbol of Arizona's Old West history.
This isn't the first time a fire tore through Whiskey Row. On July 14, 1900, a monster fire, known as the "Great Fire," tore through almost all of the buildings.
Whiskey Row was rebuilt and has been the center of the city for more than 100 years.
Stay with cbs5az.com and CBS 5 News as this story continues to develop.
Copyright 2012 CBS 5 (Meredith Corporation). All rights reserved. The Associated Press contributed to this report.