UPDATE
Phoenix coach accused of luring minor
Posted:
Updated: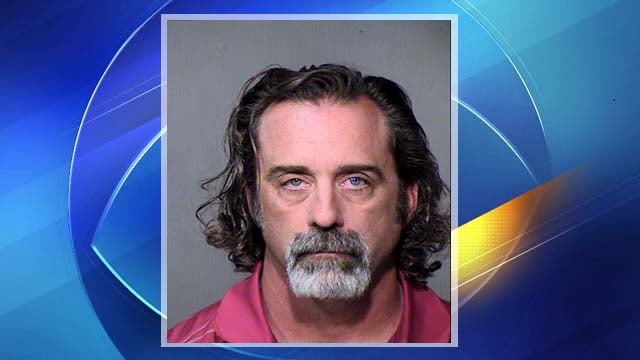 Jeffery Huelster
PHOENIX (CBS5) -
A Valley high school teacher is under arrest for allegedly trying to lure minors for sex.
Jeffery Huelster, 44, is a coach and a history teacher at Cortez High School. Police said he was talking to underage teenagers online asking for sex.
He could face one felony count of aggravated luring of a minor for sexual exploitation and two felony counts of luring a minor for sexual exploitation.
It wasn't until school let out that many Cortez High School students found out one of their teachers was arrested.
"I had got a text message after school that Mr. Huelster got arrested, and I was like 'What!' I didn't believe it," said Chanel Cole, a senior at the school.
Huelster coached football and taught history. He was arrested at his home this morning for allegedly trying to lure minors, 13 to 14 years old, for sex.
"I'm surprised, just shocked," sophomore Selena Leyva said.
"I never expected him to do anything like that," junior Antonio Rojas said.
"He's such a nice guy and he's so committed to football and everything," said William Abbot, who is a sophomore and used to be on the football team Huelster coached.
Phoenix police said they were tipped off by authorities in North Dakota that Huelster was chatting inappropriately with a minor online there.
"He provided a live streaming image of himself to our victim," Sgt. Trent Crump said.

Police said they found out his computer's IP address was also linked to another potential luring case here in the Valley. His home computer was taken and so was his personal laptop that was used at the school.
"You never know, you can never trust anybody. You don't know how they acting at school or outside of school," Cole said.
"I wouldn't really ever care to talk to him again, you know," Abbot said.
In a letter sent home to parents, the school said he'd been there for three years and that a thorough background and fingerprint check were conducted.
Police said no one from Cortez has come forward accusing him of a sex crime. He's been placed on paid administrative leave through the end of the investigation.
Copyright 2012 CBS 5 (Meredith Corporation). All rights reserved.