PD: Domestic violence at root of Gilbert shootings
Posted:
Updated: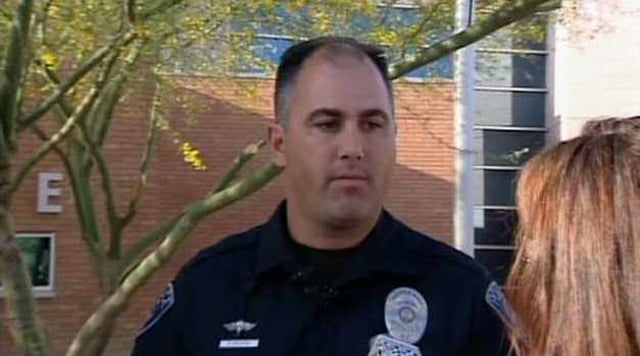 Gilbert Police Sgt. Bill Balafas
GILBERT, AZ (CBS5) -
Police said a woman heard arguing before five people were shot to death in a Gilbert home Wednesday, leading police to believe that domestic violence was at the root of what they were calling a horrific murder-suicide.
Gilbert Police Sgt. Bill Balafas on Thursday morning said the 19-year-old daughter of one of the victims, Lisa Mederos, was in the home and also heard gunshots.
Balafas said the woman did not see the shootings, but found the bodies and was one of the people who called 911.
Jason Todd Ready, 39, is believed to have shot his girlfriend, Lisa Mederos, her daughter, a man and a 1-year-old toddler before taking his own life in the normally quiet Gilbert neighborhood.
Ready was identified by police as a former Marine with ties to neo-Nazi and Arizona militia groups.
Balafas said Ready and Mederos lived at the home at 530 W. Tumbleweed, near Warner and Cooper Roads.
Balafas said police were still looking for a concrete motive, but felt it was "safe to say" it was purely a domestic violence situation
Also killed were Lisa's daughter, Amber Mederos, 23; Amber's boyfriend, Jim Hiott, 24; and Amber's daughter, Lilly, 1. The infant was taken to the hospital, where she died. Police said the bodies of the two men were found outside the home, and the bodies of the two women and infant were found inside.
Balafas said the Maricopa County medical examiner was performing autopsies on the bodies, and those results and ballistic information were expected to support the theory of a murder-suicide.
The FBI and the Joint Terrorism Task Force were at the scene because of the amount of military-grade munitions found in the house and chemicals found in 55-gallon drums in the backyard of the home, Balafas said. He said he couldn't speak to what those agencies were investigating, but that the munitions and chemicals had been moved from the house.
The house is no stranger to domestic violence.
Balafas said he learned early Thursday there had been previous calls for domestic violence at the house, though he said he did not know how many.
Officers were going to continue to canvass the neighborhood in case there were other witnesses who could help the investigation, Balafas said.
Balafas said the hearts of the police department go out to the families.
"This does have a human impact on us and the whole community," Balafas said.
The Anti-Defamation League said on Thursday it has tracked Ready's activities since the early 2000s.
Arizona Regional Board Chair Miriam Weisman and Regional Director Bill Straus issued the following statement:
"J.T. Ready subscribed to an ideology that embraces hate and violence. It is a culture which sees violence as a solution to social, political and even personal problems. ADL has been aware of his involvement and leadership in white supremacist groups and activities for over a decade, and while to our knowledge he had no previous personal record of domestic violence, ADL has tracked many incidents of white supremacist violence against women in recent years, including domestic violence."
Stay with cbs5az.com and CBS 5 News as this story develops.
Copyright 2012 CBS 5 (Meredith Corporation). All rights reserved.