UPDATE
4 dead after high-speed chase with Border Patrol
Posted:
Updated: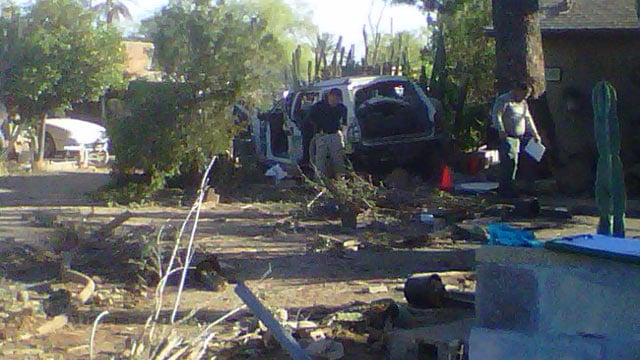 CASA GRANDE, AZ (CBS5) -
Four people believed to be illegal immigrants were killed when an SUV struck a brick wall during a high-speed chase involving the U.S. Border Patrol early Wednesday morning.
A Casa Grande police spokesman said U.S. Border Patrol and Homeland Security were following two vehicles, one of which was believed to be involved in either drug or human smuggling, about 12:40 a.m.
Witnesses told police a 2001 Dodge Durango entered Casa Grande and the driver lost control while trying to negotiate a corner and crashed into a brick wall in the yard of a house. Neither agency was in pursuit of the Durango at the time of the crash, and there were no occupants in the house.
There were 11 people in the Durango, the spokesman said, one of which was ejected. Three people were dead at the scene and one died at Maricopa Medical Center.
One of the drivers is in Homeland Security custody and the driver of the Durango was identified as a woman from Eloy. She was in St. Joseph's Hospital.
Neither driver is suspected of being in the U.S. illegally, according to police.
A Pinal County Sheriff's Office spokesman said the Durango reached speeds as fast as 100 mph before the driver lost control.
Casa Grande Fire Department personnel were also at the scene.
Juanita Ledezma, 82, is the owner of the property the van plowed into.
"This is the third time I've had to clean up this mess. This is seven fatalities in the last 14 months on this property," said her grandson, Levi Ledezma, who helped clean up the mess.
He blames the crash on a curve on Florence Street near 3rd Avenue that leads into their neighborhood.
This morning's crash brought back bitter memories of another young woman killed in a car crash on that same lawn nearly two years ago.
"She took the curb too fast, and it rolled over, she died instantly. Six people were in the vehicle, they were all ejected," said Alejandra Rodriquez.
Her sister Alicia was five months pregnant.
"If there was a guard rail, the vehicle she was in wouldn't have rolled that many times," she said.
"Anytime you have that number of accidents, especially tied to fatalities, that does cause us concern," said Casa Grande Public Works Director Kevin Lewis.
He says they're going to look into this corridor, but the 25 mph speed limit here should be enough.
Neighbors say they want speed bumps or a guard rail, but Lewis said no plans were in the works.
Stay with cbs5az.com and CBS 5 News as this story develops.
Copyright 2012 CBS 5 (Meredith Corporation). All rights reserved.