SEE THE BACK STORY
Troops deploy to Afghanistan
Posted:
Updated: April 28, 2012 06:02 PM MST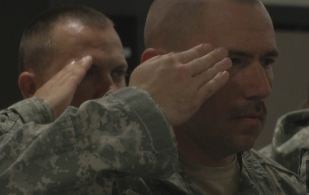 BUCKEYE, AZ (CBS5) -
Forty Army Reserve soldiers with the 539th Military Police Detachment are set to start a deployment to Afghanistan on Monday and will not return until the summer of 2013, according to Major Brandon Kelley.
The soldiers are from Arizona, Nevada, California, Oklahoma, New Mexico and Texas and are located at the Army Reserve/National Guard Drill Center in Buckeye, Arizona.
The troops and their families were part of a mobilization ceremony Saturday in Buckeye.
"I'll miss a lot like her first step, her first word," said Spc. Tyler Teadt.
Teadt and 39 others are leaving behind hundreds of family members to start training in Texas on Monday. Kelley said by June the troops will be in Afghanistan.
"He loves it, he loves every part of it and I support whatever he loves one hundred percent," said Laura Anderson, wife of soldier Matthew Anderson.
"Don't take your family for granted and tell them you love them every day," Matthew said.
Kelley said the 539th Military Police Detachment specializes in law and order operations on various bases and camps in support of Operation Enduring Freedom.
This is the unit's second deployment.
The first was to Iraq from November 2006 to September 2006.
Copyright 2012 CBS 5 (Meredith Corporation). All rights reserved.