Dirty Dining Apr. 26: Worst offender has 9 health code violations
Posted:
Updated: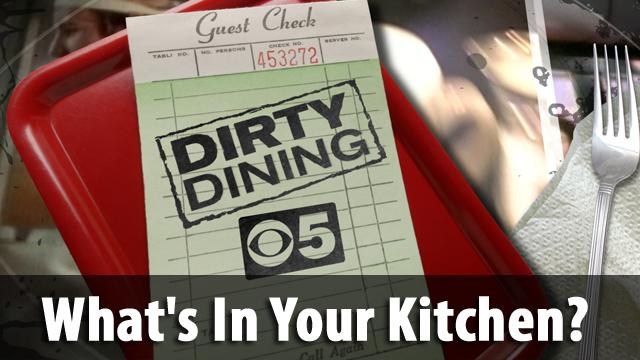 Every week CBS 5 News is sent a list of restaurants that have been recently inspected by Maricopa County's Environmental Services Dept. CBS 5 News selects five restaurants with some of the highest number of "Risk Factors." According to health inspectors, risk factors are considered major health code violations. For more details on the restaurant inspection scoring system visit http://www.maricopa.gov/
Moki's Hawaiian Grill
3614 E. Southern Ave.
Mesa
6 violations
The Saguaro
4000 N. Drinkwater Blvd.
Scottsdale
7 violations
Herb N' Flavors
1845 E. Broadway Road
Tempe
8 violations
Devil's Pizza Factory
920 E. University Drive
Tempe
8 violations
Mercado Y Carniceria Sepulvedas
1708 W. Bell Road
Phoenix
9 violations
Dean's List – Those with perfect scores
Grand Dragon
4730 W. Olive Ave.
Glendale
Max and Ted's Neighborhood Bar
480 N. Arizona Ave.
Chandler

Pussycat Lounge
4426 N. Scottsdale Road
Scottsdale
Arby's
2342 E. Thomas Road
Phoenix

Tiramisu
10435 N. Scottsdale Road
Scottsdale

Copyright 2012 KPHO.Meredith Corporation. All rights reserved.