Pair of Phoenix police officers go out of their way for crash victim
Posted:
Updated: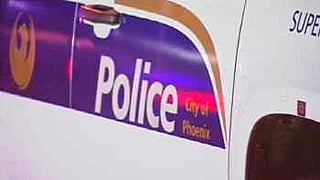 PHOENIX (CBS5) -
It's not often that a car wreck turns into a positive memory, but that's the case for a Valley retiree thanks to the help of a pair of Phoenix police officers.
Delores Leone loves her new electric scooter. It's not a luxury so much as a necessity after what happened a couple weeks ago.
"I was coming down Ray Road, stopped at a light at 44th Street and I got rear ended, very heavily," said Leone.
She was OK because her old electric wheelchair and lift took the brunt of the impact.
"The lift itself was pretty bad," said Officer Tom Sario with the Phoenix Police Department.
Sario responded to the crash with his partner, Officer Tung Mai.
The mangled lift presented a predicament.
"I said, 'We don't want to put the lift down because if we put it down and it doesn't come up, if it was broken, then I can't get home because I'll be stuck in the parking lot,'" said Leone.
After the officers finished what they had to do at the scene, they got in their car and drove out of their way, 12 miles, to her house in Sun Lakes to make sure her chair and lift would still work.
"I mean, they really did go beyond the call of duty I think," said Leone.
"At the end of the day, you know you did the right thing and you don't have to think twice about it," said Mai.
Leone said she would have been up the creek without officers Sario and Mai, so she nominated them for CBS 5's Pay It Forward.
Sario and Mai said they're going to donate the money to the 100 Club, which helps out families of police officers and firefighters who die in the line of duty.
Copyright 2012 CBS 5 (Meredith Corporation). All rights reserved.