See the Back Story
DPS: 2 killed in semi crash on US 93
Posted:
Updated: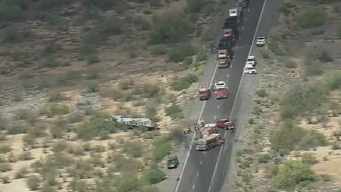 © CBS 5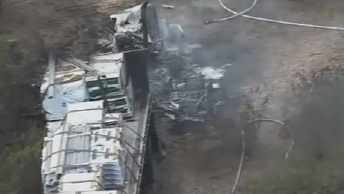 © CBS 5
WICKENBURG, AZ (CBS5) -
Two people have died in a two-vehicle crash involving a semi on US 93.
Investigators said an SUV crossed the center line, putting it directly in the path of the semi truck on Thursday morning north of Wickenburg. Both drivers were pronounced dead at the scene.
"This is an unfortunate scenario where we will not know for a while why he went left of center," said DPS spokesman Officer Carrick Cook.
A nine-mile stretch of US 93 was closed in both directions for several hours between state routes 71 and 89. It reopened just after 7 p.m. Thursday, according to DPS.
Investigators have identified the driver of the semi truck as Mark Anthony Santorii, 44, of Las Vegas. The family of the man inside the Suburban has identified him as Sergio Horcos.
"We know the driver of the Suburban is a 55-year-old resident of Wickenburg well respected in the community. It is very sad for the family to hear the news," Carrick said.
CBS 5 News learned that Horcos was a realtor in the area and was returning back from a business meeting.
Investigators said with so many questions about the crash unanswered they had to take their time piecing everything together, even if it meant keeping a busy roadway closed for hours.
"We do ask for patience from other motorists to understand that two people are dead here and we need to take our time with it and make sure that we have everything for the families for closure," Carrick said.
During the closure of the US 93, there was also another crash involving a semi truck and a car along the detour of US 93 at the junction of state routes 71 and 89.
Stay with cbs5az.com and CBS 5 for updates on this developing story.
Copyright 2012 CBS 5 (Meredith Corporation). All rights reserved.