Experts say Valley bee season is looking 'normal'
Posted:
Updated: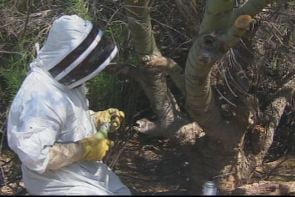 Bees are an important part of the desert ecosystem. And although the spring months are considered bee "season" here in the Valley, are they becoming more aggressive and are there more bee attacks this spring?
"Right now, we're right on pace with the numbers from last year and the years prior with bee calls," said Capt. Scott McDonald with Phoenix Fire.
Officials in Mesa say they've seen an increase in bee calls, but mainly because people are worried about the type of bees they're encountering.
"I think what we're seeing, is people are calling because they're a little bit concerned about the fact that they believe there's an increase in Africanized bees here in the Valley," said Capt. Forrest Smith of Mesa Fire.
And there's good reason to be concerned about Africanized bees.
"When they do come after you, they're not stopping until they sting every bit of your body, especially your face," said Sage Garvey of Burns Pest Elimination.
Local exterminators tell us although this is looking like a normal bee season overall, they're seeing increased bee activity in the northwest, northeast, and far east Valley.
"We're seeing a lot more wild hives moving into our residential areas like the Cave Creek area, as there are a lot of mountain hives out there. And they're actually migrating into the city. We think it may have to do with water," added Garvey.
The best defense is to be aware of your surroundings, both when enjoying the outdoors and around your home. Of course, if bees become aggressive or attack, immediately call 911.
Copyright 2012 CBS 5 (Meredith Corporation). All rights reserved.