See the Back Story
Court documents: Fiancé calls police on bride-to-be for beating child
Posted:
Updated: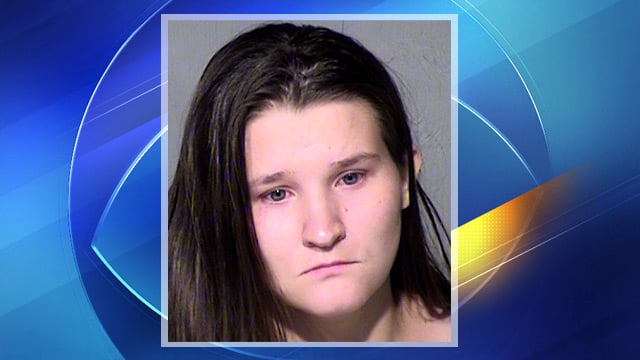 A Valley woman is behind bars after her fiancé called police on her for allegedly beating her 5-year-old son.
Jennifer Sweet had gotten her son back from Child Protective Service custody last April after he was taken away in 2009. He was taken away because she didn't have a place to live. But now police say she's in trouble for allegedly beating her kid because he wasn't listening to her.
Violent details alleging what happened between Jennifer Sweet and her 5-year-old son in this court document are alarming.
The 24-year-old mom allegedly threw a plastic bag containing body wash at her son, along with a TV remote. Court records show she also picked up a folding chair and threw it at him, striking him in the face.
"I show up here and I see a few cops here, and I don't even know what's going on," said next-door neighbor Mario Robles. He saw the police arrive last Friday arresting her.
Sweet's fiancé, identified as Charles in court documents, called police on her saying he saw her throw things at the child. His grandmother was also inside the house. Robles was shocked to find out what was happened.
"She always had a little kid with her, and she was nice with the little kid all the time. She probably lost control or something," he said.
After Charles confronted her, Sweet allegedly slapped her son two more times, causing his lip and nose to bleed.
"It's not right, it's something you have to pay more attention," said Robles.
Sweet allegedly grabbed her son and tried to clean him up before officers arrived. When they got there, they noticed a bloody upper lip, bruises on his cheeks and eye and a small laceration to his head.
CBS 5 reached out to CPS to find out what is supposed to happen to make sure the child was safe once he was back in his mom's custody.
A representative sent us this statement:
"The Department must comply with court orders and will seek to reunify families when the parent or parents have successfully remedied the safety threats and risk factors that caused the children to be removed from the home."
Copyright 2012 CBS 5 (Meredith Corporation). All rights reserved.