UPDATE
Missing girl's family says they'll 'never give up'
Posted:
Updated: April 22, 2012 09:38 PM MST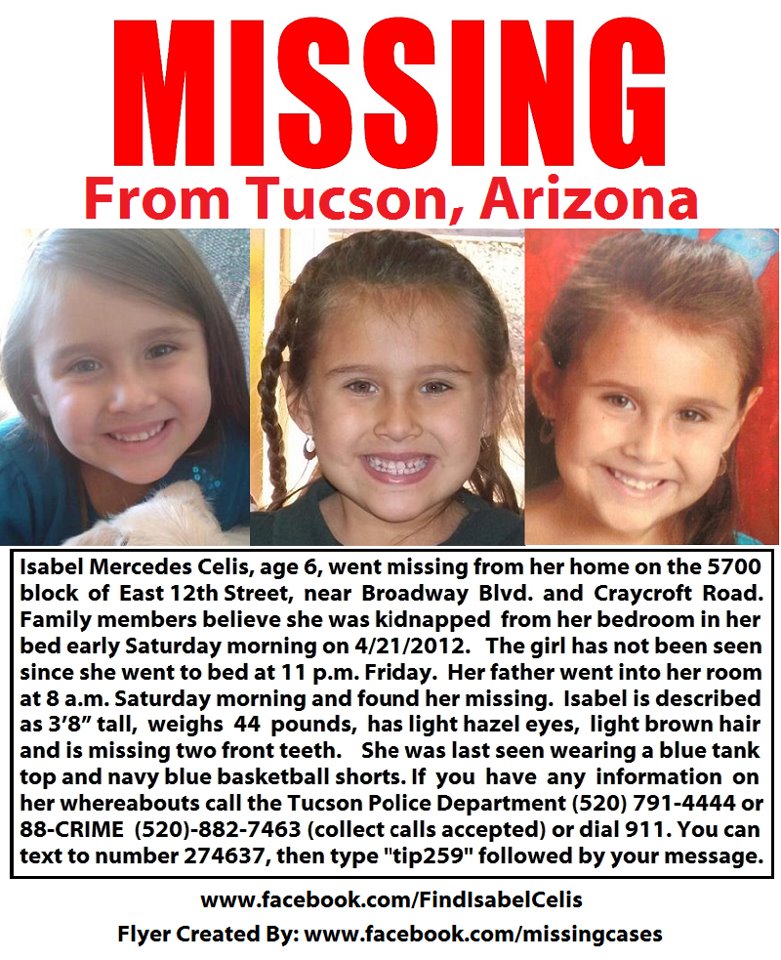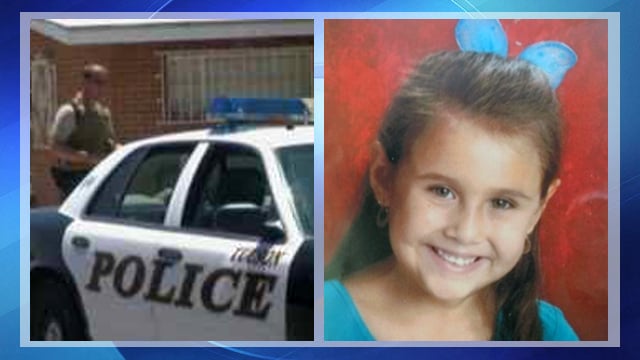 Police search for Isabel Celis, right
TUCSON, AZ (CBS5/AP) -
The family of a missing 6-year-old Arizona girl says they will "never give up" trying to find their daughter.
Isabel Celis' family was allowed to return to their Tucson home Tuesday after authorities completed a search of the house.
Her family released a statement Monday with their first comments since she disappeared from her home over the weekend.
They say they appreciate everyone's interest in finding Isabel and thank all the volunteers who have been searching for her. The family said they are focused solely on her safe return.
Authorities said they decided to keep Isabel's family away from the home after a search early Monday of the house by FBI dogs.
Police Chief Robert Villasenor says the information turned up by the dogs required follow-up, but he wouldn't reveal what was found. One is a cadaver dog and the other is a foreign scent dog.
Three days of searching by scores of police and officers from several agencies have failed to locate Isabel in a case authorities are calling "suspicious disappearance/possible abduction."
Law enforcement authorities said they have interviewed 17 sex offenders who live within a 3-mile radius of the home.
At a briefing early Monday afternoon, police said that a search warrant was served in the girl's neighborhood. Investigators are also searching the Los Reales Landfill, about 10 miles from Isabel's neighborhood. Police said the National Center for Missing and Exploited Children has been notified.
Meanwhile, a police spokeswoman said investigators found "suspicious circumstances around a possible entry point" at the home.
Police Sgt. Maria Hawke wouldn't comment Sunday on whether the entry point was a bedroom window or a door.
However, family friend Mary Littlehorn says she heard from others close to the family that a window screen in the girl's bedroom had been knocked down.
Villasenor says Isabel was last seen Friday night as her parents put her to bed at their home near the 5600 block of East 12th Street in Tucson. They discovered her missing at about 8 a.m. Saturday, according to police, and called 911.
Villasenor told media Sunday they're considering all possibilities, but the girl's parents have been cooperating completely.
"The family has been cooperating with us. They are currently with detectives at this point, but we are not ruling anything out in this investigation," said Villasenor.
No Amber Alert issued
When asked why an Amber Alert was not issued, Villasenor said, "This case does not fit the criteria for an Amber Alert. Amber Alert is designed so that you have specific information about a possible suspect or a vehicle or a definitive abduction and you have a direction of travel," he said. "That is not what we have here."
The Department of Public Safety is responsible for issuing an Amber Alert in Arizona.
DPS issued a statement to CBS 5 News saying in order for an alert to be issued, there has to be proof that there was an abduction of a child under the age of 18 (such as witnesses who saw the child taken); the abduction must pose an immediate credible threat of serious bodily injury or death to the child; a law enforcement agency must determine the child is not a runaway or abducted as a result of a child custody dispute, unless the dispute poses a credible or specific threat of serious bodily harm or death to the child; and, there has to be sufficient, descriptive information about the child, abductor and the circumstances surrounding the abduction to indicate that the activation of the Amber Alert will locate the child and/or suspect.
Tucson police have been joined by FBI agents and a large contingent of deputy U.S. Marshals.
Hawke, with Tucson police, said police are searching the area of the Arizona city around East Broadway Boulevard and Craycroft Road using street patrols, canines, detectives and a helicopter.
"We need her home safe, safe and sound, you know. We like to hope that she just went for a walk and is going to come back, you know, unharmed," said Justin Masteromarino, the girl's uncle.
Meanwhile, the family's pastor said they are turning to prayer.
"We are asking God to melt the hearts of those who are responsible for this," said Father Miguel Mariano.
Friends of the family said they have passed out more than 20,000 flyers. (Click here for a printable flyer).
Isabel is described as just under 4'0'' tall and weighs 44 pounds, with brown hair and hazel eyes.
Anyone with information about the whereabouts of the girl is asked to call 911 or 88-Crime.
Copyright 2012 CBS 5 (Meredith Corporation). All rights reserved. The Associated Press contributed to this report.