Trial begins for baby Gabriel's would-be adoptive mother
Posted:
Updated: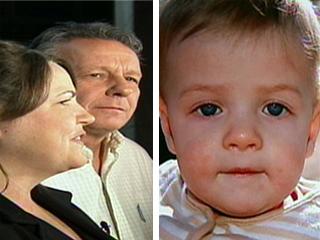 Tammi Peters Smith sat quietly in a Maricopa County courtroom Tuesday as prosecutors presented their case against the Scottsdale woman accused of forgery and custodial interference.
The charges stem from Smith's connection to the case involving Baby Gabriel, the 8-month-old who has been missing since December 2009.
"To the defendant, Gabriel Johnson was a thing to be desired, a prize an object," said prosecutor Elisa Ramunno. "She wanted a baby and she was going to go to any lengths to get one."
Prosecutors claim that Smith pushed hard to adopt the boy in the weeks leading up to the boy's disappearance, when the child's mother, Elizabeth Johnson, ran off with him. Johnson initially said that she killed Gabriel, then changed her story. Gabriel remains missing.
Smith is accused of trying to pressure Gabriel's father, Logan McQueary, into signing adoption papers and giving up his parental rights.
However, defense attorney Anne Phillips told jurors that all her client is guilty of is trying to help a young struggling couple find the best home for their baby.
"This trial is not about Baby Gabriel," said Phillips. "This trial is about the character assassination of my client, Tammi Smith."
McQueary took the witness stand first on Tuesday and testified that Smith and her husband seemed like good people, but later said that it was apparent what they were after.
"It was the way they kept asking me about the adoption," McQueary told jurors. "They really irritated me and asked me a few times."
The trial will continue Wednesday.
Copyright 2012 KPHO (Meredith Corporation). All rights reserved.