UPDATE
Jury finds Clary guilty in fatal US 60 hit-and-run
Posted:
Updated: April 15, 2012 04:16 PM MST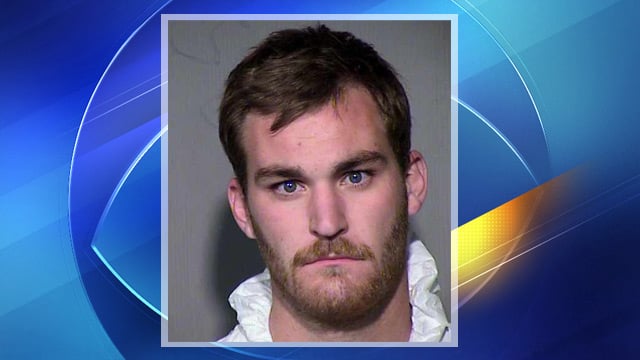 Mark William Clary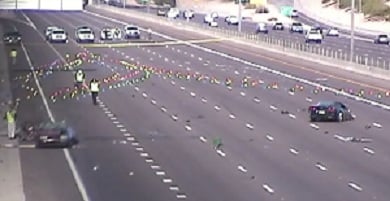 PHOENIX (CBS5) -
A jury has found Mark William Clary Jr., guilty on manslaughter charges in a fatal hit-and-run crash that killed an ASU student.
The jury announced the verdict in Maricopa County Superior Court on Tuesday afternoon, finding Clary guilty of two counts of manslaughter, three counts of aggravated assault and leaving the scene of a fatal accident.
Clary was supposed to have an ignition interlock device in his 2008 Corvette after he was arrested in 2011 for an extreme DUI.
Alberto Gutier from the Governor's Office on Highway Safety said, "Everybody makes a mistake, but when you repeat and repeat, that makes it worse."
Clary was arrested in February 2011 in Mesa for driving at a high rate of speed, extreme DUI, failing to stop at a red light and reckless driving. Those charges were dismissed as part of his plea agreement of guilty for driving under the influence.

State law mandates that a person who has been convicted of a DUI have an ignition interlock device, which stops the vehicle from starting when the driver provides a breath with a blood alcohol level into the machine.
Since Clary's license was restricted, CBS 5 News has learned he had installed an interlock device into at least one other vehicle, but not the 2008 Corvette involved in the deadly crash.
ASU student Giacomo Masolini, 22, and Michael Meadows, 21, of Apache Junction, died as a result of the crash. Three other people were hurt.
Police say Clary was driving his Corvette at a high rate of speed when he crashed into a Chevy sedan on U.S. 60 between Alma School and Dobson roads early Sunday morning. After the crash, Clary fled on foot, but was caught soon after.
Authorities said Clary had a strong odor of alcohol around him and was supposed to have an ignition interlock device on his steering wheel, but didn't.
Arizona Department of Public Safety spokesman Officer Carrick Cook said the wreck happened shortly after 3 a.m. on the eastbound lanes of U.S. 60 near Dobson Road.
Cook said witnesses told officers a man driving a Corvette rear-ended a Chevrolet Corsica with three people inside. The Corvette then hit a Volkswagen. All three vehicles spun out of control, Cook said.
"It's really sad and shocking. I've never seen anything like that," said Kelsie Ruiz, a witness to the crash. "And then, as for the guy who caused the accident, he took off and ran."
Cook said Masolini, the passenger in the rear seat of the Corsica, died upon impact.
Diyonte Harden, a former co-worker of his, told CBS 5 News on Sunday that Masolini was a "super cool guy, always down to earth, very friendly, very personable."
Harden said Masolini's goal in life was to help others who struggled with alcoholism.
"He used to go to [Alcoholics Anonymous], so he was real big into trying to help kids who had drinking problems try to reform their life. That was something that he wanted to kind of pursue with school," said Harden.
Witnesses told investigators they followed the driver of the Corvette, Clary, after he took off from the scene on foot into a Mesa neighborhood south of the freeway, said Cook.
The jury is now deciding if aggravating circumstances exist.
Copyright 2013 CBS 5 (KPHO Broadcasting Corporation). All rights reserved.