Vintage WWII aircraft fly into Scottsdale
Posted:
Updated: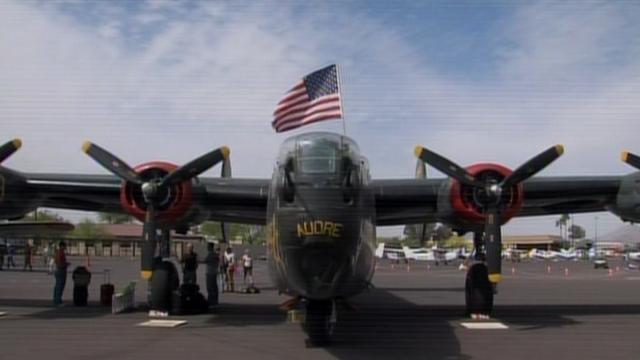 SCOTTSDALE, AZ (CBS5) -
History buffs can get an up-close look at vintage WWII aircraft during the "Wings of Freedom" tour, honoring WWII veterans at the Scottsdale airport through April 16.
Sponsored by the The Collings Foundation, the 110-city nationwide tour offers spectators a rare glimpse into aviation history.
Volunteer pilot Jim Harley said, "The tour is a living history museum. WWII Veterans are why we do this and we want to keep their memory alive."
The Boeing B-17 Flying Fortress "Nine O Nine" WWII Heavy Bomber, Consolidated B-24 Liberator "Witchcraft" WWII Heavy Bomber and the P-51 Mustang will fly into Scottsdale Airport for this three-day event.
The B-24J and Full Dual Control P-51C Mustang are the sole remaining examples of their type flying in the world.
The B-17 is one of only 10 in flying condition in the United States.
Pilots can also have an opportunity to get some "stick time" behind the controls of the P-51 with prices ranging from $2,200 for a half hour to $3,200 for a full hour.
Admission for adults is $12 and $6 for children under 12.
WWII veterans can tour through the aircraft at no cost.
The tour will fly to the Deer Valley airport in Phoenix for the last leg of the Arizona tour from April 16 to 18.
Copyright 2012 KPHO (Meredith Corporation). All rights reserved.