SEE THE BACK STORY
Critics expose 'bill factory for corporate wish lists'
Posted:
Updated: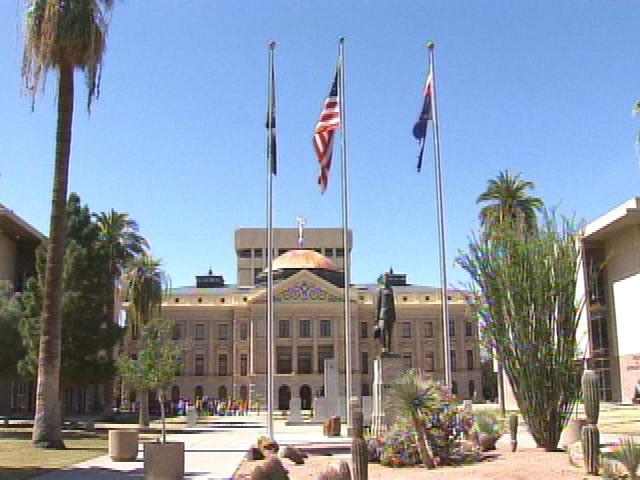 © CBS 5
It's been called a "bill factory for corporate wish lists," one a report claimed has more than 50 Arizona lawmakers in its back pocket.
It's powerful people who should be looking out for you, but are they?
"What happens inside ALEC is very secret. They don't want the public to know," said former Sen. John Loredo.
It sounds like something out of a movie, a secret society lawmakers know about but you don't - until now.
"Arizonans know what is best for Arizona. We don't need someone else's template and we don't want someone else's control," said teacher Janie Hydrick.
Hydrick was talking about a group called ALEC.
It's like a super lobbyist that attracts your Republican lawmakers and big corporations to fancy retreats where they all make up laws the legislators bring back to Arizona and try to pass.
The problem is, they tend to benefit those big companies and not you.
"Their influence down here, it's unbelievable," said Sen. Steve Gallardo.
The study was released by Center for Media and Democracy and Common Cause. It also spelled out what corporations take part in the ALEC retreats.
"APS is currently a corporate member of ALEC," said APS Lobbyist Jessica Pacheco.
APS doesn't try to hide their involvement, probably because they're quick to point out it's coming to an end.
"We are actually not renewing our membership," Pacheco said.
They aren't the only ones.
Corporations like Coca-Cola, Pepsi and Kraft Foods also said they're cutting ties.
Legislators appeared to be distancing themselves too.
Here is a list of the Arizona lawmakers the study claimed are members of ALEC:
Sen. Sylvia Allen, Sen. Nancy Barto, Sen. Andy Biggs,Sen. Rich Crandall, Sen. Adam Driggs, Sen. Gail Griffin, Sen. Lori Klein, Sen. John McComish, Sen. Al Melvin, Sen. Rick Murphy, Sen. Steve Pierce, Sen. Michelle Reagan, Sen. Don Shooter, Sen. Steve Smith, Sen. Steven Yarbrough, Rep. Cecil Ash, Rep. Brenda Barton, Rep. Judy Burges, Rep. Steve Court, Rep. Chester Crandell, Rep. Jeff Dial, Rep. Karen Fann, Rep. Eddie Farnsworth, Rep. John Fillmore, Rep. Thomas Forese, Rep. Doris Goodale, Rep. David Gowan, Rep. Rich Gray, Rep. Jack Harper, Rep. Russell Jones, Rep. Peggy Judd, Rep. John Kavanagh, Rep. Debbie Lesko, Rep. Javan Mesnard, Rep. Katie Brophy McGee, Rep. Nancy McLain, Rep. Justin Olson, Rep. Frank Pratt, Rep. Terri Proud, Rep. Amanda Reeve, Rep. Bob Robson, Rep. David Stevens, Rep. David Burnell Smith, Rep. Andy Tobin, Rep. Steve Urie, Rep. Ted Vogt, Rep. James Weiers and Rep. Kimberly Yee.
Copyright 2012 KPHO (Meredith Corporation). All rights reserved.