Coyotes clinch division; good for business
Posted:
Updated: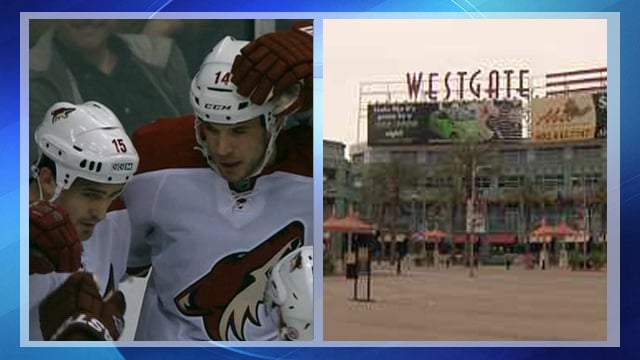 © Phoenix Coyotes
GLENDALE, AZ (CBS5) -
It was a busy sports weekend with the Masters and baseball season under way, but Sunday the Valley was talking hockey.
For the first time in team history, the Phoenix Coyotes have won their division and are about to roll right into the Stanley Cup playoffs.
The fans are excited, but the businesses in the Westgate area are also looking forward to the crowds. There are restaurants right next to the Jobing.com Arena inside the Westgate City Center area where the Coyotes play.
In addition to the restaurants and shops, there are also kiosks. For example, the C'est Bien Skincare shop sits just a short walking distance from the arena entrance. They say the foot traffic from the games is something they count on, and with the playoffs right around the corner, they couldn't be more pleased.
"It's people, all the traffic comes in through here and goes this way and that's all we get is Coyotes fans, and they have their shirts on and it's so fun to see everybody so happy, and that's where most of our business does come from," said Danelle Vargas with C'est Bien Skincare.
If you are planning on attending the playoffs, you are asked to wear all white to support the team.
The first two games are scheduled for Thursday, April 12, and Saturday, April 14. To find out more information about tickets, call 480-563-PUCK or go to PhoenixCoyotes.com.
Copyright 2012 CBS 5 (Meredith Corporation). All rights reserved.