Slain Walmart worker's family mourn his death
Posted:
Updated: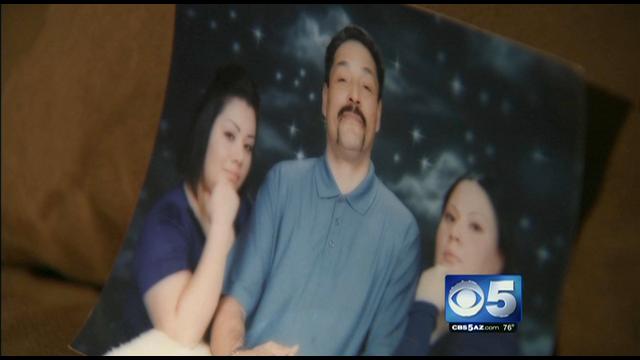 Peter Marquez
PHOENIX (CBS5) -
Peter Marquez seemed to have two consuming passions, one was his daughters and family the other his job at a West Valley Walmart.
However, late Friday night his job would put him in front of a robber running out with a cart of cash and a gun that he would use to kill Marquez.
"He came in from his break outside and just happened to be in the wrong place at the wrong time and the guy just shot him," said Monica Marquez, Peter's oldest daughter.
"He did not even realize that the guy was there stealing, I do not think, and the guy shot him and there is no reason for it," said Peter Marquez Sr., Peter's father.
The Marquez family calls it a nightmare, one they desperately want to wake from, but instead they're left struggling with unanswered questions.
"Why didn't he just keep running why did he take a gun and shoot?" asks Monica.
Marquez Sr. believes while the man with the gun is to blame, the store his son made a second home should have done more.
"Why wasn't somebody monitoring those cameras to see what was going on. My son had to die for some stupid actions, that the big store did they did not have enough security," said Marquez Sr.

Monica worked along side her dad at the store, she says the security there was not enough and policies need to change.
"I think Walmart needs to have more security, change up their routines so people do not know the every day things," said Monica.
After this she is not sure she can ever return back to work. She said not hearing his voice or seeing his face will be too much especially with his killer still out there.
"He was my best friend and somebody took him away," said Monica.
CBS 5 News asked Walmart about security at the store and if it was enough to keep employees safe. Dianna Gee, a Walmart spokesperson, released this statement:
"This is a tragic situation. We understand this is a difficult time for the family as well as our associates. We are committed to providing a safe and secure environment for our associates and customers. On a regular basis each Walmart store is reviewed to determine the appropriate security measures and to make any necessary adjustments."


The family asks that if anyone knows something about the murder of Peter Marquez or the Walmart robbery please call Silent Witness at 480-WITNESS.
Copyright 2012 KPHO (Meredith Corporation). All rights reserved.