Governor ranks high in Time's 'Most Influential' list
Posted:
Updated: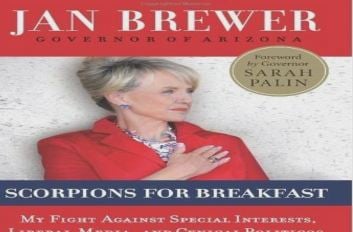 PHOENIX (CBS5) -
Who do you consider to be influential? Maybe you'd say world leaders, A-List celebrities or perhaps star athletes. A politician from Arizona is giving some huge names a run for their money.
With challenging healthcare reform in the Supreme court, going toe-to-toe over SB1070 and the infamous finger wag seen around the world, Arizona Gov. Jan Brewer has had a busy year.
"She is a very influential character," said Thane Eichenauer. It turns out many people think so. So far in Time magazine's online poll of the "Most Influential People in the World," Brewer ranks 18 out of 200 international contenders. And while people around the world know her name, many in her own backyard don't.
"I am going to out myself and tell you I don't even know who Jan Brewer is," said Rachel, a photographer and aerobics instructor.
According to this list, she's more influential than President Barack Obama, Stephen Colbert and Beyonce, but not quite as much as Jeremy Lin, Ron Paul and Lady Gaga. So what are her most memorable moments so far this year?
"I was familiar with the finger waving incident and that law where you have to show your identification if asked by an officer," one resident told CBS 5 News.
"Someone described to me a picture a woman wagging her finger at the president," Rachel said.
And while that may be the first thing that comes to mind, the governor has done other things with her time. In fact, this fiscal year Arizona will have a budget surplus.
Voting ends this Friday and the winner will be featured in the Time 100 issue. The top 100 will be revealed in a couple of weeks. We asked the governor's office what they thought of this international popularity, and they said they're not going to comment yet, but will if she makes the top 100.
Copyright 2012 CBS 5 (Meredith Corporation). All rights reserved.