SEE THE BACK STORY
Activist knits uterus to send message to lawmakers
Posted:
Updated: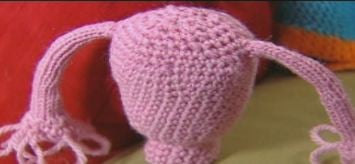 PHOENIX (CBS5) -
Critics of an Arizona proposal to limit birth control coverage have given a personalized gift to more than a dozen state lawmakers -- a fuzzy, knitted uterus.
Seeing grandmother Peggy Tinsley knitting in a chair might not raise an eyebrow, until you get a closer look at her project.
"This is 25," Tinsley said. "I'm saying uteri, I haven't looked it up."
The craft is one she's picked up in her later years, but the message is one she knows well.
"I've been around for awhile; we thought that war was over so many years ago, and for it to come up now is just ridiculous," Tinsley said.
She said she's using her knitting needles to fight for women's rights, and she isn't the only one.
Women across the country are holding knitting parties, making uteri to send to lawmakers with a strong message.
"Here's one of your own. Now leave mine alone," Tinsley said.
Peggy's taking a different approach to influence her lawmakers because the traditional route hasn't gotten her very far.
"I have sent letters to my legislators before. And I get letters back that say,"Thanks for your position, la dee da, la dee da,'" she said.
She's not a "la dee da" kind of lady, so when she heard about the "Government Free V-J-J" movement she knew just how to help.
It might not matter to her, personally.
"I'm way beyond the age where I would be worried about these things," she said.
But it matters to her granddaughter, neighbors and friends.
And the sisters, wives and daughters of the lawmakers trying to pass HB 2625, she said.
"We're not idiots. Don't treat us like idiots. We have healthcare issues that can be addressed this way and should be," Tinsley said.
Tinsley delivered 33 to the state Capitol Thursday - one, she said, for every member of the House and Senate who voted in favor of HB 2625.
CBS-5 News reached out to many on that list and a few said they haven't gotten theirs yet. Others said they have no comment.
Copyright 2012 CBS 5 (Meredith Corporation). All rights reserved.