AZ gun laws questioned after deadly shooting
Posted:
Updated: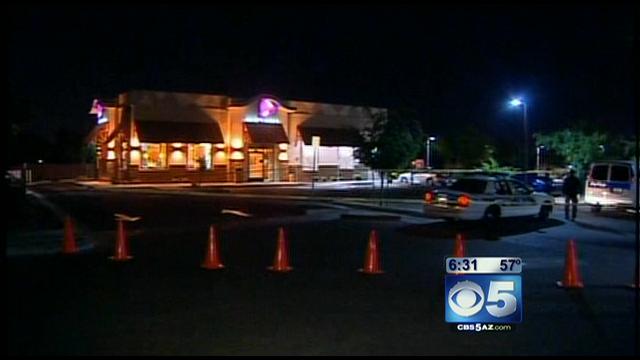 PHOENIX (CBS5) -
Is it a case of self-defense? That is what police are still trying to figure out about a deadly shooting Tuesday night in a Taco Bell drive-thru.
Investigators said 28-year-old Daniel Adkins was walking his dog across the drive-thru lane when a car came around the corner and almost hit them. Police said the Adkins and the driver got into an altercation. The driver said he thought Adkins swung a bat or a pipe at him forcing him to shoot and kill Adkins.
Investigators are trying to determine if this was self-defense or murder. So far, the driver has not been arrested or charged in the case.
Adkins' family blames Arizona's pro-gun and self-defense laws in part for tragedies like this.
"That is the problem with Arizona, I feel like they need to be more aggressive with this situation and you know this is not the first time, this has happened several times. Arizona needs to be more stricter about this whole gun law they are not using it the correct way," said Marina Reyes, Adkins' sister.
Arizona law allows someone whose life is threatened to stand their ground and use deadly force if necessary to protect themselves.
This recent shooting has some taking sides in the gun debate. Some feel that since Adkins was not armed, he shouldn't have been shot. Others feel because he was threatening a man with a pregnant woman in the car, self-defense is understandable.

"When it comes down to protecting yourself and your family and your future family, that is going to be huge for a lot of people," said Don Gallardo, a manager at a Phoenix Shooters World store.
Gallardo said at Shooters World they see plenty of people looking into weapons for self-dense, but he said it comes down to training and knowing when you should and should not use a weapon.

"Unfortunately, you never know what you are going to do in a situation. Some people say they are going to rise to the occasion, but people fall to their level of training and education," said Gallardo.
Pro-gun state laws in Arizona advocate for weapons as self-defense, but a law expert says deadly force can still only be used as a last resort.

"You are only allowed to use deadly physical force if you are being attacked with immediate physical deadly force. So if that is not the case, then you do not have the right under Arizona law to pull out a gun and shoot someone," said Ulises Ferragut, a defense attorney.
Ferragut said even in a pro-gun state, a jury will still want to know a gun was used justly when a life is lost.

"Just because you have an individual on a jury that says, 'Hey I believe in the Second Amendment and I believe in the right to carry a gun,' that person may hold that defendant to a higher standard because they are saying, 'Hey look, we believe in your right to carry a gun, but you have to do it responsibly,'" said Ferragut.
Copyright 2012 CBS 5 (Meredith Corporation). All rights reserved.