ONLY ON CBS 5
Tornado rips off roof as family shelters in bathtub
Posted:
Updated: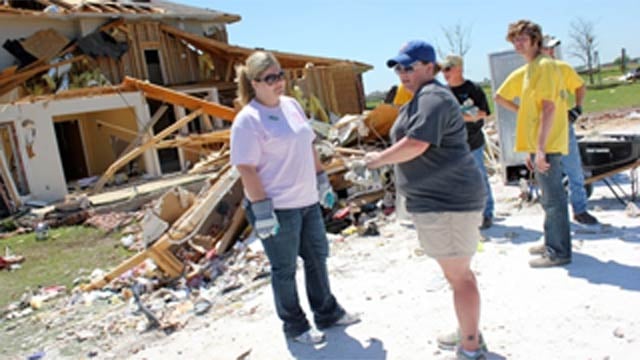 Tammy Leitner, cbs5az.com
FORNEY, TX (CBS5) -
Sheri Enochs was home in Forney, TX, with her grandchild and two other kids when the twisters hit on Tuesday.
"She looked out what was the back glass window and saw it coming across the field," said her husband Mike.
Sheri Enochs said she wrapped the children in a comforter and hunkered down in the bathtub.
"It hit and she just hung on for dear life and saved those babies' lives," said Mike Enochs.
What happened next is fuzzy.
"She said she came to and was in the garage and the bathtub was nowhere to be found," said Bobbie Dean, her daughter. "We found pieces of it under the car but don't know where the bathtub is."
The family said Thursday it is hard to imagine a pile of rubble they were standing next to was once a house.
"I think the whole roof must have been sucked off and it was just bricks and mortar and lumber piled up," said Mike Enochs.
Among the debris, Mike Enochs spotted a sign. "You look at it just right, there's a cross," he said.
The tornado may have leveled their house, but not their faith.
"It was a miracle that she survived," Mike Enochs said. "That the three children survived."
[Visit our Special Section: Texas Tornadoes]
Copyright 2012 CBS 5 (Meredith Corporation). All rights reserved.