ONLY ON CBS 5
Kids hide under choir robes, ride out Texas tornado
Posted:
Updated: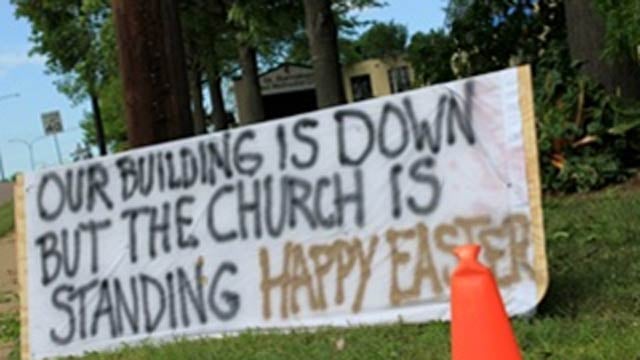 Tammy Leitner, cbs5az.com
ARLINGTON, TX (CBS5) -
When incredible tornadoes ripped through northern Texas on Tuesday, people in the path of destruction did anything they could to survive.
One church group managed to survive a near-direct hit from one of those tornadoes.
There will be no church bells ringing anytime soon at St. Barnabas. For the time being, the sounds of industrial-strength blowers fill the air and the pews.
[Visit our Special Section: Texas Tornadoes]
When the tornado struck St. Barnabas Church, it ripped off the roof. Inside the church, the children's choir director, Cathy Smith, was trying to comfort a room full of scared young children.
"We sang Jesus Loves Me a whole lot, and then our power went out," Smith said.
When things went dark, panic started to set in for the little ones, some as young as 15 months old.
"It just got really still, almost like you were in an airplane and your ears are about to blow," Smith said. "They felt like they were going to pop, and I knew it was coming right over us the minute I could feel that with my ears."
They could do nothing but wait and pray.
"It truly sounded like a freight train with the vibration coming over and walls shaking," Smith said. "I'm sure it wasn't very long, but it felt like a long time."
The stained glass windows eventually gave way to the monster winds. Trees were ripped from the ground and when the water pipes burst, Smith and the children rushed to find shelter in another part of the church.
"We had some kids against this wall and we had some in a closet," Smith said. "They were against this wall under the choir robes."
Smith said more than choir robes were protecting them that day. No one was hurt.
Church members are already starting to rebuild. While it will take time for all the pieces to be put back in place, their faith remains whole.
Copyright 2012 CBS 5 (Meredith Corporation). All rights reserved.