UPDATE
Horne: Accuser admits no direct evidence for claims
Posted:
Updated: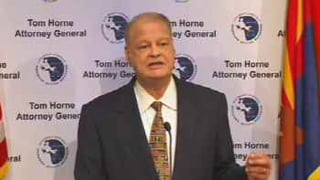 Tom Horne at Wednesday's news briefing
PHOENIX (CBS5/AP) -
Arizona Attorney General Tom Horne said Friday he has no way of knowing who initiated an FBI investigation against him and said he has never been contacted by the FBI.
At a morning news briefing Wednesday, Horne cited a news story in a political tip sheet published by the Arizona Capitol Times. It quoted accuser Don Dybus as saying the allegation was based on inferences, not direct evidence.
"I've always known the charges against me were baseless," Horne said. "Why did he wait a year and half after the campaign, when he was about to be fired, to make the charges rather than make the charges at the time?"
The complaint alleges Horne illegally worked with a group that spent more than a half a million dollars against his 2010 Democratic opponent. It also states Horne's brother-in-law contributed $115,000 to the same group. The complaint also said Horne hired that group's chair in a highly paid position as soon as he was sworn into office.
Horne said on Friday that he disputes the allegations against him regardless of the source and said he never claimed Dybus initiated the investigation.
Dybus continues to be an employee of the attorney general's office. Horne said they are conducting performance reviews and if they conclude his work is not up to par, only then would he lose his job.
Copyright 2012 CBS 5 (Meredith Corporation). All rights reserved. The Associated Press contributed to this report.