UPDATE
Up to 12 tornadoes blast North Texas
Posted:
Updated: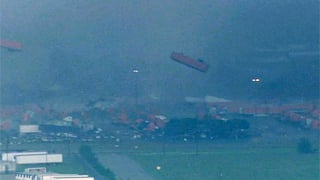 CNN/WFAA: Tornado tosses semi into the air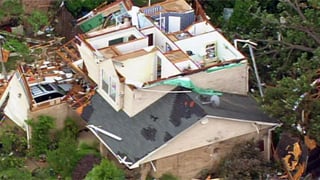 CNN/WFAA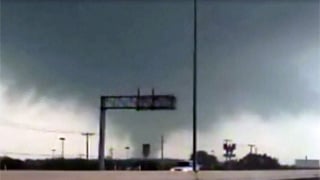 CNN/WFAA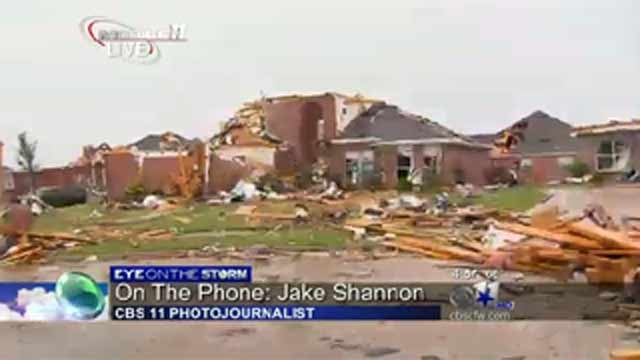 KTVT: Damage in Forney, Texas
DALLAS (CBS5/AP) -
The National Weather Service says it appears that six to 12 tornadoes touched down in North Texas on Tuesday.
The twisters raked the Dallas-Fort Worth area, smashing a wing of a nursing home and stripped roofs from dozens of homes.
TV viewers watched in horror as live broadcasts showed menacing clouds and a large funnel draw truck trailers from a parking area into its wide spiral. The violent weather overturned cars and left some streets in damaged areas impassable.
Amazingly, there have been no fatalities reported.
KTVT-TV in Fort Worth reported at least 40 people have been injured and 500 structures damaged. The tornadoes have torn roofs off homes, and left flattened tractor trailers along highways and parking lots. As many as 40,000 homes are without power, news reports said.
In Lancaster, at least 300 homes and buildings were damaged and multiple injuries reported, said Mayor Marcus Knight at an afternoon news briefing. Knight added there aren't any reports of fatalities. He said a curfew has been imposed from 7 p.m. to 7 a.m. CT. They have cordoned off several roads in the most heavily damaged neighborhoods.
In Forney, City Manager Bryan Brooks said destruction has been significant. "We've had several reports of minor injuries," he said. Law enforcement and fire officials are doing a house-to-house search in affected neighborhoods, Brooks said.
Hail up to the size of baseballs has been reported in parts of Dallas and Tarrant Counties, according to reports from the local National Weather Service office there.
Weather service advisories issued Tuesday said storm spotters and radar revealed separate tornadoes south of Dallas and Fort Worth. The weather service says the tornado south of Fort Worth caused "considerable damage" near Cleburne.
Local television footage shows a large funnel cloud on the ground near Interstate 35 south of Dallas. The weather service says the "large and extremely dangerous" tornado was near Lancaster about 20 miles south of Dallas and moving north.
CNN showed video of 18-wheelers being lifted off the ground and thrown through the air by an apparent tornado in Dallas County. Storm spotters and radar showed more than one south of Dallas and Fort Worth, according to the Associated Press.
At 12:50 p.m., KTVT-TV reported a possible tornado on the ground around Arlington moving in the direction of Irving. Another tornado was indicated west of Plano, meteorologists said.
The Red Cross said it is mobilizing teams to deliver emergency aid to the affected areas. In Phoenix, the staff and volunteers of the Grand Canyon Chapter are on standby, according to Michele Maki, American Red Cross communications coordinator.
American, Southwest Airlines cancel flights
American Airlines has canceled nearly all departures from its hub at DFW Airport for the rest of the evening.
American had canceled more than 230 flights by Tuesday afternoon and others had been diverted to different airports. American spokeswoman Andrea Huguely says the airline also is pulling dozens of planes out of service to inspect them for hail damage.
The Federal Aviation Administration says delays are averaging nearly three hours for the few flights still getting through.
Flights also have been canceled at Dallas Love Field, which is a big base for Southwest Airlines. That airline has canceled more than 45 flights in and out of the airport.
Love Field spokesman Jose Luis Torres says the airport didn't suffer any damage.
At Sky Harbor International Airport in Phoenix, hundreds of travelers are stranded because of the canceled flights.
Travelers like Shelly Adamcik got word that she wouldn't make it home Tuesday night. The Texas native was at Sky Harbor when her flight was scrubbed but Adamcik was more concerned about her loved ones riding out the storm.
"I did talk to all of my family and everybody has been hunkered down in safe rooms - bathrooms with mattresses," Adamcik said. "Nobody has seen any tornadoes yet, at least where my family is, but they are definitely prepared."
Some passengers who were simply connecting through Dallas to other cities were able to catch other flights on different airlines.
Copyright 2012 CBS 5 (Meredith Corporation). All rights reserved. The Associated Press contributed to this report.