ONLY ON 5
School bus stops where sex offender lives
Posted:
Updated: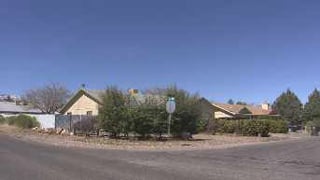 School bus stop located in front of sex offender's home
COTTONWOOD, AZ (CBS5) -
Every morning, school buses rumble through neighborhoods, picking up and taking kids to school. Most kids live within a few blocks or houses from where they wait for the bus.
The neighborhood near 4th Street and Elm, in the community of Cottonwood north of the Valley, is no different. Every morning, several buses make stops there for both elementary and middle school aged kids.
What few people know, especially not the people who should know, is that a registered sex offender lives in a home right where the kids wait and where the buses stop.
CBS 5 News watched as kids converged in front of the predator's home. Reporter Donna Rossi then went and talked with district officials.
David Snyder, director of Business Services for the Cottonwood-Oak Creek School District, said they were notified by Cottonwood police shortly after the sex offender moved in.
Registered sex offender Michael MacVittie moved into the home in April 2011. He is a level three sex offender, considered a high risk to the community. MacVittie did register as required with Yavapai County.
Snyder admitted that when they were notified, they did not discuss moving the bus stop location.
"We set our bus stops to for ease of access for students and their parents and the bus stops are determined by that rather than the residency in the neighborhood," said Snyder.
Snyder said the district put the sex offender flier with MacVitties information up on a bulletin board to alert bus drivers, but the district did nothing to inform parents.
"The parents or the neighborhood is notified by the police department. It's their normal procedure that when a sex offender goes into a neighborhood that they canvass a two- or three-block area and make notification," said Snyder.
Cottonwood police do have record that notification was made to the district, the library, the media and the surrounding neighborhoods.
Cottonwood police Sgt. Gareth Braxton explained how notification normally takes place.
"Usually there are fliers distributed that have pertinent information such as a his photo, vehicles that are registered to him, information regarding the crime he was convicted of and his classification level. Typically, it's a significant amount. Enough to notify at least the immediate surrounding community," said Braxton.
CBS 5 News walked the block where we saw the kids leave their homes and walk to the bus stop.
Mother Michelle Fuller said she never received a notification from police and she lives within about eight houses of MacVittie on the adjacent street. Her 14-year-old son uses that bus stop.
"The school should be doing something because they're the ones that pick where the bus stop is. Definitely, they need to be doing more," said Fuller.
Two teenage girls live right next door to Fuller. Both of Maria Hernandez's daughters ride the bus. She too said she never received a flier. She also believes it was the school's responsibility to let them know and she suggested they move the bus stop.
Snyder said they had not received any complaints about any incident involving MacVittie in the past year. And when asked if he thought it to be a good practice to have a school bus stop directly in front of a sex offender's home, Snyder admitted that adjustments could be for the safety of students and the confidence of parents.
CBS 5 News spoke to the homeowner who is renting a room to MacVittie. He said he contacted the school district last year when MacVittie moved in.
"I was not concerned about danger to the children and I still am not. But I felt like they ought to know because I didn't think it was appropriate for the bus to stop right in front of the house. I thought they could move it half way up the block," said the homeowner, who asked not to be identified.
The district said they would look at making changes and review their other bus stop locations as well.
Click here to check your neighborhood for sex offenders.
Copyright 2012 CBS 5 (Meredith Corporation). All rights reserved.