Students protest new smoking rule
Posted:
Updated: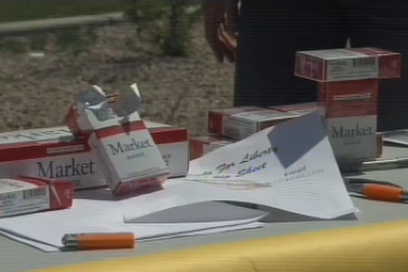 SCOTTSDALE, AZ (CBS5) -
A new rule at Scottsdale Community College has caused some students to give out free cigarettes in protest.
Right now, smoking at the college is restricted to certain areas, but later this summer it will be banned completely on campus.
Today, a group called Students for Liberty organized an anti-nanny event saying the ban is just another "nanny law" to dictate their personal choices.
"Even if they're right, because I believe smoking is bad for you, you still do not have the right to tell somebody how to live or actually make them live however you see fit," explained Carlos Alfaro with Students for Liberty.
The students set up tables around campus where on one side they gave out apples and on the other side gave out cigarettes and donuts.
The group told CBS 5 News they are not promoting smoking but just want everyone to have the right to choose their own lifestyle.
Copyright 2012 KPHO (Meredith Corporation). All rights reserved.