Arizona lawmaker wants support for 'Birther Bill'
Posted:
Updated: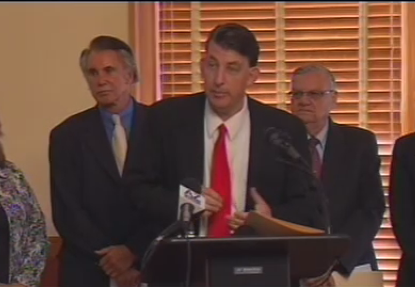 PHOENIX (CBS5) -
A Republican lawmaker is trying to round up support for his own "Birther Bill."
Rep. Carl Seel authored the controversial HB 24-80 which states that an affidavit must be filed prior to an election proving that a candidate for president is a natural born citizen.
The law would also allow that once the document is filed that any person in the state would be able to challenge it.
That could send cases to court.
Members of the Tea Party, along with Sheriff Joe Arpaio, spoke out today in defense of the measure.
"I think the bill is important to at least have some law that you have to show you were born in the United States," explained Arpaio.
If the bill becomes law, it could force state judges to determine whether someone is a natural born citizen.
Some have argued that President Barack Obama is not a citizen because his father was not a U.S. citizen.
Copyright 2012 KPHO (Meredith Corporation). All rights reserved.