UPDATE
Dumping ground for dead dogs found in South Phoenix
Posted:
Updated: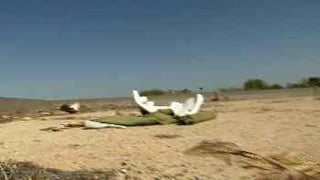 Bodies of 11 dead dogs found in illegal dumpsite
PHOENIX (CBS5) -
Residents in one South Phoenix neighborhood have discovered a dumping ground for dead dogs in a field adjacent to their homes.
Neighbor Michael Petty said he is disgusted by what was allowed to happen on a 10-acre piece of private property owned by a bank in Texas.
"Only when the dogs appeared in quantity did I realize that it looked like a criminal activity, like somebody was training dogs to kill other dogs," Petty said.
Phoenix Public Works employees said they removed nine dead dogs from amid the trash on Sunday and two more on Monday, along with the remains of other animals.
City staff from the Neighborhood Services and Public Works departments inspected the property Monday afternoon and discovered additional dead animals, along with trash, vegetation and animal waste.
Neighbors said developers were beginning to build a new housing complex, but erecting the walls were as far as they got. Residents said road access and lack of nighttime lighting made the site near 15th Avenue and Baseline Road perfect for illegal dumping.
"I just hope they catch these guys and treat them the way Michael Vick was treated," Petty said.
The city said it has issued a notice of violation to the property owner for trash, vegetation and animal waste. The notice requires that the owner clean up the land and remove the dead animals within seven days.
City officials said they will re-inspect the property in eight days.
Phoenix police officials are trying to determine if the case involves animal cruelty.
Copyright 2012 CBS 5 (Meredith Corporation). All rights reserved.