Tandem tavern tour attracts business, funny looks
Posted:
Updated: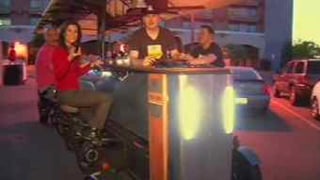 Tandem tavern tour in Scottsdale
SCOTTSDALE, AZ (CBS5) -
For many, March Madness is the ultimate party. But CBS 5 News found one "party on pedals," and it rolls around in Scottsdale every weekend.
The Tour de Tavern is a 16-person bike that can get you from place to place on a night out without ever getting behind the wheel.
Call it a bar on bikes or a saloon on spokes, the Tour de Tavern has quickly become a money maker.
"We have about 80 to 100 people we take around the streets of old town Scottsdale week in, week out," said co-founder Peter Drubin.
Consider it your designated driver. It picks you up at a bar, takes you to another, and another, and maybe another and then drops you off.
"We start and stop right back here at The Lodge and everyone winds up back at their vehicle," Drubin said. He added if you're too tipsy to drive, they have a partnership with a nearby hotel to get you a deal. And you can't "bring your own beer" - yet.
"We'd love to get that law turned around, but it seems the lawmakers have some other things that are more important," Drubin said.
This tandem tour is no speedster on the streets. It only goes between 5 and 8 mph. They still have helmets for safety and in the five months they've been mobile, they've been accident free.
"I'm having a blast, it's a lot of fun and it's a lot easier than I thought it was going to be," said first-time tavern tourist Alex Yanine.
Around this time of the year with spring training and March Madness, business is booming. That's not bad for a few guys who got the idea from a similar tour in Amsterdam.
"We feel like paparazzi as we're going down the street, everyone has their cameras and their phones," Drubin said.
A ride on the Tour de Tavern will cost about $10 an hour per person. And the guys say this is the greenest way to bar hop.
Copyright 2012 CBS 5 (Meredith Corporation). All rights reserved.