UPDATE
Pearce to make run for AZ Senate
Posted:
Updated: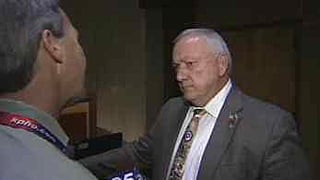 © Russell Pearce
PHOENIX (CBS5) -
Former Sen. Russell Pearce has joined the race for the state Senate seat in the new Legislative District 25.
Pearce made the announcement Monday night at a Tea Party rally in Mesa.
"My constituents know me, they know what I stand for," Pearce said as he addressed the media prior to his announcement.
"He's got me in his corner, period," said Sheriff Joe Arpaio, one of numerous state conservative leaders that came to show their support. "Some people may not like it, too bad."
Pearce was the first legislator in state history to be recalled when voters ousted him in November. He lost to challenger Jerry Lewis in Mesa's District 18.
Pearce came under fire for his views on illegal immigration. He was the author of the state's controversial immigration enforcement bill known as SB 1070.
Last month, Arizona Republicans elected him to a state party leadership role. Pearce won election as first vice chairman at a state party meeting in Phoenix.
"He's an American hero," said Pearce supporter Beth Hallgren.
"1070, oh my gosh, that's enough," said supporter Edward LaBelle when we asked why they favored Pearce over others who may run for the District 25 seat.
But not everyone was happy with the announcement.
"He's too harsh on SB1070, the illegal immigration situation," said Alfredo Moncayo, who was among a half-dozen protesters at the rally.
Luis Heredia, executive director of the Arizona Democratic Party, pointed to the recall of Pearce as a "watershed moment" that "demonstrated that even in traditionally conservative areas like Mesa, the Republican Party's extremist Tea Party agenda is no longer in step with the views and values of mainstream conservatives."
The primary election will be held in mid-August.
Stay with cbs5az.com and CBS 5 for the latest on this developing story.
Copyright 2012 CBS 5 (Meredith Corporation). All rights reserved.