UPDATE
3 bitten in 24 hours in Peoria coyote attacks
Posted:
Updated: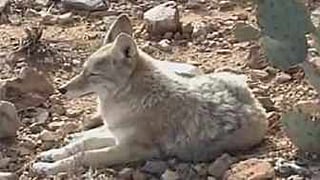 © CBS 5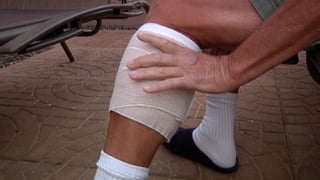 Bandages cover Ditchie's bite wounds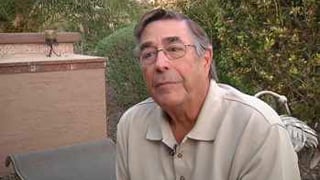 Ralph Ditchie
PHOENIX (CBS5) -
A string of unprovoked coyote attacks has some Peoria residents on edge, Arizona Game and Fish Department officials said.
Three people in the Vistancia community have been bitten in less than 24 hours, said Randy Babb, department spokesman.
On Monday, a woman was bitten on the ankle while resting on her back porch. Peoria police officers chased and killed one of three animals they encountered near the scene. The victim's bite injuries were minor, and she received medical treatment and was released that same evening.
Two additional bites, both to residents who were on their porches, occurred at about 3 p.m. Tuesday. A woman was bitten on the chest while reclining in a chair, and a man was bitten on his leg.
That man, Ralph Ditchie, said he was resting on a chaise lounge when he felt a tightening sensation around his calf muscle. He thought it was his wife telling him his nap was over.
"Because it was shaking back and forth, I thought she was waking me up," he said. But then he looked down.
"I saw the blood dripping down my leg and I turned and looked and there was this coyote sitting there," Ditchie said. "Just looking at me, trying to defy me."
Ditchie said he began making loud noises and the coyote ran into the next yard.
One trip to Urgent Care and several rabies shots later, Ditchie says he's doing fine. Even though a coyote mistook him for lunch, Ditchie said he'll be back sunbathing on Thursday, with a few behavior adjustments.
"I'm going to have my wife out here with a gun," he laughed.
In the past 15 years, there have been 18 documented bites to humans by coyotes in Maricopa County, Babb said. While the majority of these bites can be traced back to illegal feeding of coyotes by residents in the communities where the bites occurred, a few were the result of territorial behavior by adult coyotes protecting young of the year, Babb said.
In the Vistancia incidents, no one provoked the animals and no food attracted them to the resident's porches, Babb said.
"We believe territorial or breeding behavior is what precipitated these animals' aggressive behavior in these incidents," said Darren Julian, urban wildlife specialist for the Arizona Game and Fish Department. "Bites from any type of wildlife are uncommon, especially this many bites to humans in such a short span of time."
The department, in conjunction with the Peoria Police Department and USDA Wildlife Services, is trying to remove the coyotes responsible for the bites. So far, two animals have been destroyed and submitted for rabies testing, Babb said.
Efforts to remove the offending coyotes will continue until the animals are captured or until the operations are no longer feasible, according to officials.
Valley residents should report aggressive or unusual wildlife behavior to the Arizona Game and Fish Department Region 6 office in Mesa at 480-981-9400 during business hours, or at 623-236-7201 around the clock.
Copyright 2012 CBS 5 (Meredith Corporation). All rights reserved.