UPDATE
Bus strike greets Monday morning commuters
Posted:
Updated: March 11, 2012 09:29 PM MST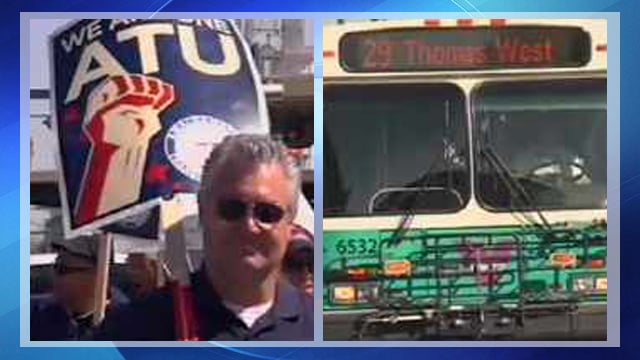 Bus strike enters 3rd day on Monday
TEMPE, AZ (CBS5) -
Many Valley Metro bus riders were looking for alternative means to get to work and other destinations Monday morning as the sun rose on the third day of a bus strike in the Phoenix metro area.
The strike between Amalgamated Transit Union local 1433 and it employer, Veolia Transportation Services, is affecting about half of the routes in Phoenix and some routes in Tempe and Glendale. About 31 routes were not running in Phoenix in 19 in Tempe.
An update on the routes from Phoenix on Monday morning said that Veolia-operated routes were running at 12 percent of regularly scheduled bus services.
The City of Tempe reported its total transit service was operating at 38 percent of normal weekday service levels.
The Metro Light Rail is running normally in Tempe and bus routes operated by Veolia-RPTA that serve Tempe (30, 40, 45, and 61) are operating according to regular weekday service schedules, according to the city.
Marie Chapple Camacho with the city of Phoenix told CBS 5 News on Monday that Mayor Greg Stanton was urging both sides to get back together to resolve the issues. She said the city has heard a meeting had been scheduled for Tuesday.
"Veolia of Phoenix routes about 90,000 boardings per weekday," Camacho said. "At least 37 percent (of riders) say there's only one car or zero cars in the household. That means their backup plan is not there."
City of Phoenix Interim Public Transit Department Director Neal Young called on people to not depend on the buses saying, "As the work week begins tomorrow, we are urging Phoenix riders to find alternative ways to work. Check with a friend, check with a neighbor, check with your family. Work together, help us get through this as a community," said Young.
Young said tens of thousands of people use public buses every weekday, almost double the weekend capacity.
For the people who depend on the bus every day, they know its schedule pretty well.
"It's running once an hour, though, so I don't know if it's going to be 53 after or 23 after. So we'll see. I'm trying to go to the grocery store," said Tony Jackson on Sunday.
After nearly two years of negotiations broke down between Local 1433 and Veolia Transportation last week, bus drivers in Phoenix started the strike Saturday morning. In less than 24 hours, Tempe also went on strike.
"I'm really worried about tomorrow, though, because getting to and from work is going to be a big hassle," said Jackson.
A lot of people are just hoping their bosses will understand, Nubian Smoots, said, "I will just probably have to plea with them and see if they have any mercy on me."
"I'm going to have to wake up earlier and walk. How else am I going to get there," said Brian Weiss.
Young said it is a fluid situation that is constantly changing.
The focus for Veolia Transportation on Sunday was to restore service, according to Valerie Michael, the director of communications.
Michael said there are 600 bus drivers in Phoenix and 300 in Tempe but explained there are not clear numbers on exactly how many of those drivers are on strike.
Sunday delays were anywhere between 40 minutes to three hours, according the Transit Department.
Depending on who shows up for work Monday, Michael said there is no way to know exactly what will happen.
Michael said Phoenix was only at 30 percent capacity Sunday and Tempe was operating at 70 percent.
The next scheduled talks are for March 22 and 23, according to Michael.
Michael said most of the negotiating terms have already been negotiated, "50 of those 56 have already been negotiated." She said it has come down to six points like vacation time, healthcare, a 401K plan, sick leave, holiday time and wages.
Copyright 2012 CBS 5 (Meredith Corporation). All rights reserved.