SPECIAL COVERAGE
The Phoenix Lights: New stories 15 years later
Posted:
Updated: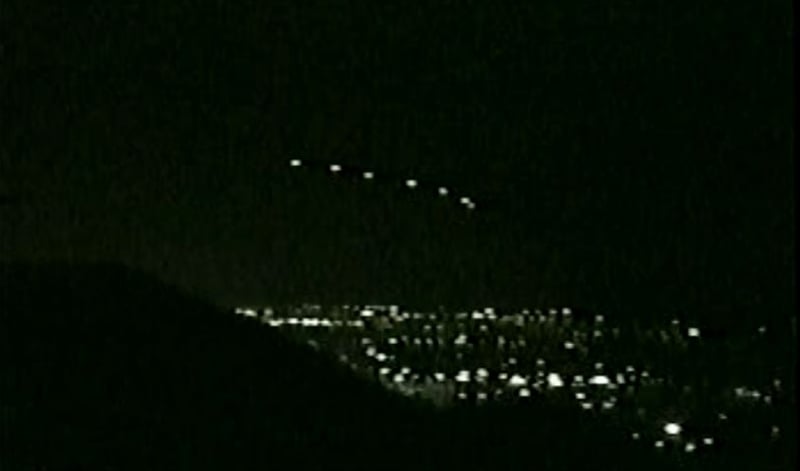 The Phoenix Lights
PHOENIX (CBS5) -
Can you believe it's been 15 years since the "Phoenix Lights" lit up the Valley's skies?
There's a celebration taking place this weekend. With it are new stories of seeing those lights the night before the big event.
Dr. Lynne Kitei is the world's most famous witness from March 13, 1997. Video taken from the balcony of her Paradise Valley home shows three lights hovering, then blinking out far southwest of Phoenix. The tape and others made headlines around the world.
Soon the Air Force had an answer: military flares.
But Kitei and hundreds, perhaps thousands, of other witnesses are not convinced. They say that does not explain the huge black craft that also flew overhead.
"Not only was the witness testimony so compelling," said Kitei. "It could not be brushed away. So many people have contributed and more credible people had come forward, including our former governor who mocked the sighting in 1997 but then came forward to say he saw it."
In 1997, then-Gov. Fife Symington held a tongue-in-cheek news conference to announce the arrest of the person responsible for the phenomenon. He then had police escort one of his aides into the room. The aide, Jay Heiler, who now serves on the Arizona Board of Regents, was dressed in an alien costume.
Ten years later, Symington confessed that he had also seen the lights and mysterious aircraft. He told CBS 5 News it was definitely not a military vehicle. "First of all, I saw the lights in geometric arrangements," he said. "Very bright -- they were high -- they were bright, and then the delineation of a big wedge-like object. It was enormous -- it was just massive."
One person who was not surprised by the sighting is Lt. John Dover. The former Navajo Tribal Ranger came to CBS 5 News with exclusive reports documenting the agency's 10-year investigation into paranormal phenomena.
Dover says that on the night before the big sighting in 1997, calls poured into his office on the reservation. "These lights circled in a counterclockwise motion," he said. "Very slowly from horizon to horizon. They passed over Winslow, Second Mesa, Tuba City, Cameron and the north side of Flagstaff around Wupatki."
Dover grinned and said, "We thought there were going to be reporters coming in and saying, 'What did you see?' And then the Phoenix Lights hit and just totally eclipsed everything."
Kitei wrote a book and produced a documentary about the sighting. Each year more people come forward to tell their experiences too. That gives her an incredible feeling of being on the right track.
"Now, worldwide when there are sighting of orbs and these massive mile-wide V-shaped or triangle craft, they compare it to the Phoenix Lights," she said.
Fifteen years after that night, there is still no agreement on exactly what it was. Even the former governor could not get an answer.
Symington chuckled and said, "You can only take an issue so far as the governor. And then you run smack dab into the feds."
Kitei's documentary, The Phoenix Lights, screens at 1 p.m. on Sunday at the Harkins Shea Cinema. She, John Dover and other guests will attend and take questions from the audience. Click here for more information or to buy tickets.
Copyright 2012 KPHO (Meredith Corporation). All rights reserved.