Details emerge in Babeu's ex-lover's $1M claim
Posted:
Updated: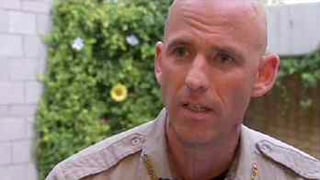 Pinal County Sheriff Paul Babeu
PHOENIX (CBS5) -
A more detailed picture is emerging of events that led Pinal County Sheriff Paul Babeu's ex-lover to file a $1 million Notice of Claim against Babeu and the county.
Sheriff's officials say the precursor to a lawsuit was received by their office Monday, but they declined further comment.
Last month, Babeu announced that he's gay and once had a relationship with Jose Orozco while the immigrant was a campaign volunteer.
Orozco has accused Babeu of threatening to deport him if he revealed their relationship. Babeu has denied any wrongdoing and has asked for an independent investigation into the matter.
According to the Notice of Claim obtained by CBS 5 News, the threats began in late 2011 and early 2012.
The document said:
The pair met in 2006.
They had a relationship for a while, then decided to go their separate ways.
One year later, they ran into each other at a bar and began dating again.
In 2008, Babeu asked Orozco to create and administer his campaign website.
Orozco also created a social media account and another website.
On Sept. 1, 2011, the pair had an argument and ended their relationship.
On Sept. 4, 2011, Babeu allegedly made threats to harm Orozco if their relationship was ever revealed.
On Sept. 5, 2011, Orozco received a phone call at 2:30 a.m. from someone he believed to be a law enforcement officer per Babeu's request.
A short time later, Babeu demanded the passwords and administrative information for the website and accounts.
On Sept. 6, 2011, Babeu's attorney sent a Cease and Desist Order to Orozco with demands made upon him. Included in the letter were knowingly false, threatening, intimidating and/or defamatory criminal allegations against Orozco, the Notice of Claim stated.
Babeu's attorney sent an email to Orozco stating that since it appeared Jose had complied, it might mitigate the situation, but he requested Orozco go to Babeu's office to discuss.
A short time later, Orozco retained an attorney to assist in his civil matter.
On Sept. 12, 2011, during a phone call between Orozco's and Babeu's attorneys, Babeu's lawyer said that because Orozco's Visa had expired, it would be in his interest to resolve the situation quietly by agreeing to sign a non-disclosure agreement regarding his personal relationship with Babeu, effectively threatening Orozco with his livelihood, the Notice of Claim said.
On Jan. 11, 2012, in an email from Babeu's attorney to Orozco's lawyer, Babeu's attorney wrote, "If you promise your clients wants to walk away, not have criminal charges filed against him, not be sued civilly, and not to engage in hostility, it's my expectation that you know you can deliver that result."
In February 2012, Babeu requested for the first time an investigation of Orozco, including accusations that Orozco committed a series of crimes and wrongful acts nearly six months prior to the date the sheriff's request for investigation was made.
The notice says claims are against PCSO, Sheriff Babeu, certain deputies, employees and others in the Sheriff's Office for damage Orozco suffered as a result of their alleged actions.
The Notice of Claim also said Orozco is entitled to an award "in an amount that fairly and reasonably compensate him for his injuries. His reputation and integrity has been tarnished and he continues to fear for the safety of himself and his family."
In an interview with CBS 5, Babeu said Orozco is the one who stole his identity, hacked into his social media sites and posted explicit photos of him.
Copyright 2012 CBS 5 (Meredith Corporation). All rights reserved.